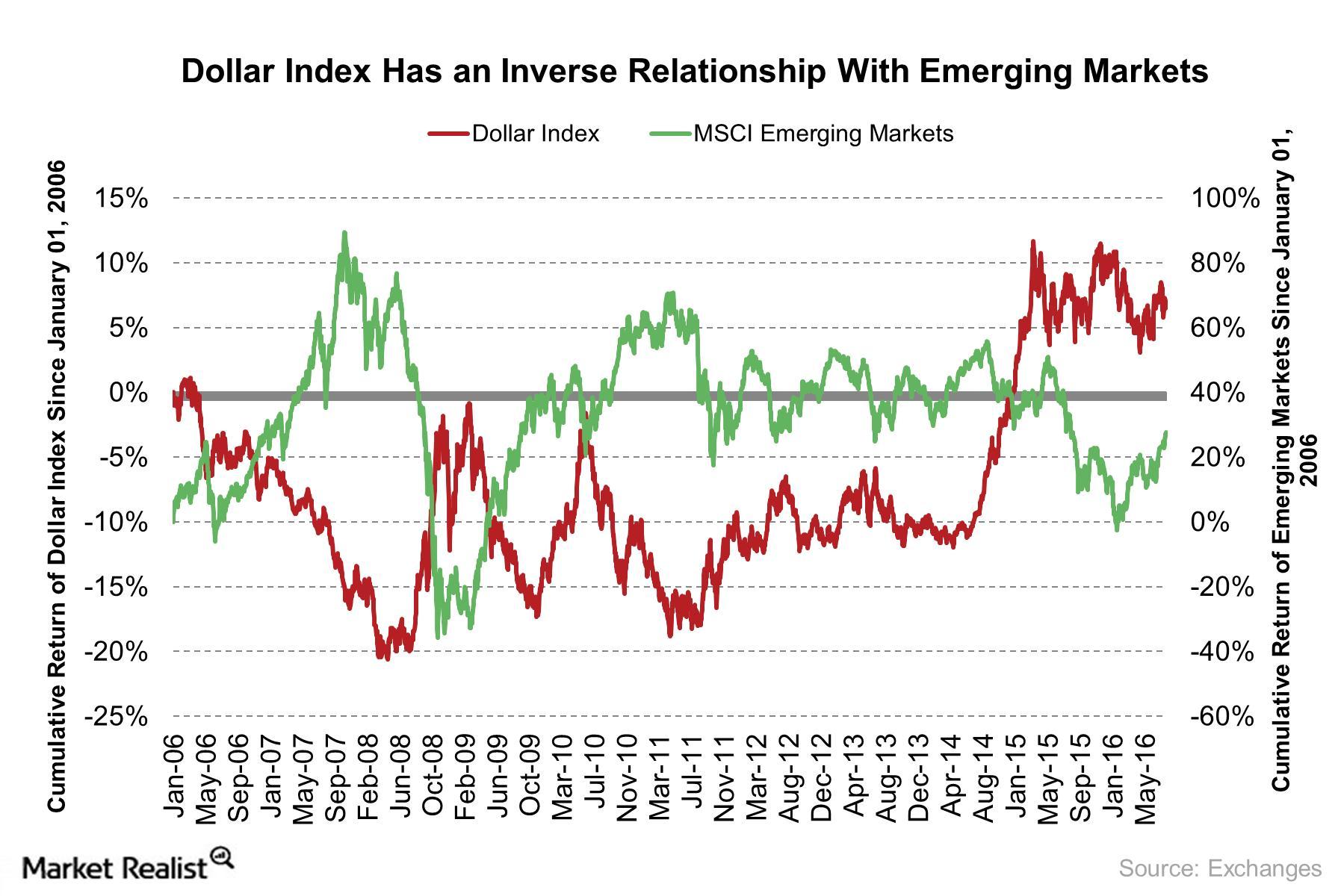 Why Emerging Market Risks Are Rising
Current investment scenario
In the previous part of this series, we looked at Carl Icahn's concern for the stock market. In an interview with CNBC, he pointed out that many stocks in the S&P 500 Index (SPY) are overvalued. In this part, we'll see why Icahn thinks there's more concern about the stock market. On the other hand, he said "we're as active as we've ever been" in the current investment scenario.
Article continues below advertisement
Risks in emerging markets
According to Icahn, the risks in emerging markets (EEM) (VWO) are rising. He advised a cautious move in the stock market. The rising US dollar (UUP) is a big threat to emerging markets (EDC). The US dollar index is at a six-month high.
On October 12, 2016, it was trading at 97.8. On May 2, 2016, it hit its 12-year low of 92.6. The index reacts positively to interest rate hikes. The probability of a rate hike in December 2016 is increasing, which is pushing the dollar index (UUP) up.
In the past, we've seen that when the dollar index weakens, money flows into emerging markets (EEM), and vice versa. As the dollar index becomes stronger, it becomes a threat to emerging markets.
Corporate debt of emerging markets
On the other hand, the corporate debt of emerging market economies is rising. It's been increasing gradually over the last ten years. The corporate debt level of most nonfinancial companies in emerging economies rose from $4.0 trillion in 2004 to $18.0 trillion in 2014, according to the IMF (International Monetary Fund) Global Financial Stability report.
In another article, IMF: Rising Emerging Market Corporate Debt Could Lead to Crisis, we reported how the debt structure in emerging economies is changing. A loan is the major component of corporate debt. In 2004, loans made up 9.0% of the total debt structure, and in 2014, they made up 17.0%. Bond issuance is also increasing gradually, with many companies issuing more and more debt in the form of bonds.
Emerging markets' corporate-debt-to-GDP ratio has also been gradually increasing. Between 2003 and 2014, the ratio rose 26.0%. The worry is that rising corporate debt could lead to a financial crisis in emerging markets (EDC), which later could affect the global (ACWI) (VTI) financial system.
In the next part of this series, we'll take a look at Icahn's view on Herbalife.