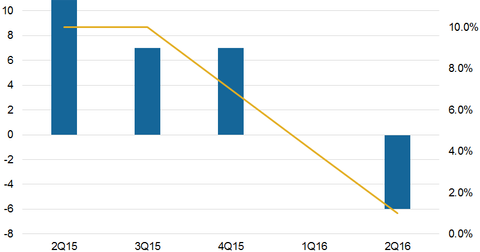 More Retail Clients for BlackRock's Business in 3Q16
By Robert Karr

Updated
Retail clients
Over the years, BlackRock (BLK) diversified its investors base from institutional investors to retail clientele. Retail contributes almost 12% of the company's total managed assets with funds of $544 billion as of June 30, 2016. However, it garners almost one-third of the company's total base fees reflecting higher margins in the segment. BlackRock's ETFs and index fund offerings have been adopted across the retail segment—reflecting interest towards low-cost products.
Article continues below advertisement
In 3Q16, retail clients are expected to add new funds as equities have risen across the segments—compared to $6.3 billion in withdrawals in the June quarter. Outflows in the June quarter included $2.7 billion from the US and $3.6 billion from international funds. From the asset class perspective, fixed income saw inflows of $2.3 billion—offset by outflows totaling $4.9 billion from equities and $2.6 billion from the multi-asset category.
BlackRock posted EBITDA (earnings before interest, tax, depreciation, and amortization) of $4.7 billion last year. Let's compare this to its peers:
JPMorgan Chase (JPM) – $40.8 billion
State Street (STT) – $3.6 billion
Bank of New York Mellon (BK) – $6.4 billion
Together, these companies form 1.7% of the SPDR S&P 500 ETF (SPY).
Market appreciation
BlackRock's retail division saw assets under management rise due to market appreciation, partially offset by net outflows of funds and foreign exchange. In the September quarter, the division is expected to see higher appreciation as well as new inflows across asset classes with stable to negative foreign exchange. The company's managed total base fees rose to $806 million in the June quarter—compared to $789 million in the previous quarter.
BlackRock generates the highest margins in its retail offerings among other asset classes. The company launched new products targeting retail clientele to attract new funds.
In the next part, we'll study how institutional investors are deploying their funds.