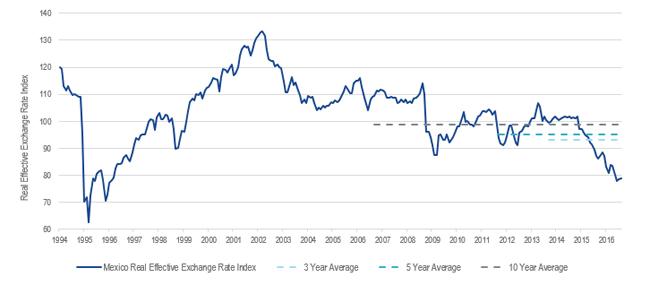 Mexico and the US: Real Effective Exchange Rate Case Studies
By VanEck

Oct. 24 2016, Updated 11:11 a.m. ET
Market participants and researchers often attempt to estimate an equilibrium REER based on fundamental value. That analysis is beyond the scope of this post, but as a starting point we'll look at the REERs of two countries, Mexico and the United States, within a historical context (see charts below). If one assumes that the long term factors that determine equilibrium are reflected in long term average observed REERs, then historical averages may be a good starting point. It can be seen that the Mexican peso is currently below historical averages, after a sharp decrease following the 2013 taper tantrum and more recent weakness this year. On the other hand, the U.S. dollar is above its historical averages, and reached a recent peak at the beginning of 2016.
Mexico Real Effective Exchange Rate
January 1994 – August 2016

Source: Bloomberg.
United States Real Effective Exchange Rate
January 1994 – August 2016

Source: Bloomberg.
Market Realist – It's important to consider the REER case studies for the Mexican peso and the US dollar above.
Article continues below advertisement
In light of what we've discussed, we believe emerging markets (EEM) (VWO)—particularly emerging fixed-income markets (EMAG) (IGEM)—could be good investments. Not only is the economic growth potential high, but valuations and currency movements are also helping emerging markets look attractive. The US dollar (UUP) has flagged somewhat from its relentless upward march of 2015 as global monetary policies have started to converge. The Federal Reserve is still on the path of least resistance. A hike may be expected at the end of this year, but it will probably be mild. This outlook is a tailwind for emerging market assets.
Valuations have helped emerging market currencies as well. The changing REER in some currencies has provided a level of comfort for some economies. For example, the trade balances in countries like Brazil, South Africa, Turkey, and Indonesia have benefited over the past couple of years due to major changes in the valuation of their currencies (Sources: Luis Costa, Citi; the Financial Times).
In the next part of this series, we'll discuss how local-currency emerging market bonds (EMLC) could prove to be a good opportunity for investors in the current context.