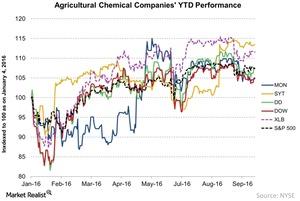 A Quick Peek into the 4Q16 Starts of DOW, DD, and MON
By Adam Jones

Dec. 4 2020, Updated 10:53 a.m. ET
Fourth quarter begins
Dow Chemical (DOW) and DuPont (DD) started 4Q16 on a positive note, with their stocks rising 1.1% and 1.3%, respectively, compared to their closes on September 30, 2016.
During the same period, the S&P 500 (SPY) fell 14 basis points, while the Materials Select Sector SPDR ETF (XLB) fell 10 basis points.
Article continues below advertisement
In the news
According to the news, European antitrust regulators resumed their review of Dow and DuPont's merger, which was suspended due to incomplete information being submitted by the companies.
According to sources, this issue has now been resolved, and the company's deadline for approval is set to February 6, 2017. Due to the delay on the part of Dow and DuPont, the approval has been pushed back by a month.
Why is this important?
Antitrust and related regulations have been the biggest hurdles in merger and acquisition transactions. In Dow and DuPont's case, regulators are seeking to ration power in the sector to protect the interests of farmers and ensure that they aren't exploited by unfair practices.
This remains a challenge for Monsanto (MON), which is in a pending merger with Bayer AG, and Syngenta (SYT), which is in a pending merger with ChemChina. With companies moving toward consolidation, the fear of concentration looms. This is why antitrust regulations are put in place. The US version of the antitrust law is known as the Hart-Scott Rodino Antitrust Improvements Act.
Monsanto is set to release its latest earnings on October 5, 2016. You can read our series Why Is Monsanto Still Limping? Get Ready for 4Q16 Earnings to know more.