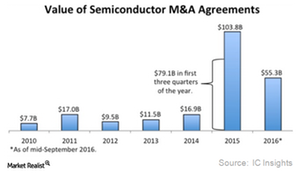 Qualcomm-NXP Merger Could Boost 2016 Semiconductor Consolidation
By Puja Tayal

Updated
Semiconductor consolidation trend
In this series, we've learned that Qualcomm's (QCOM) potential acquisition of NXP Semiconductors (NXPI) would likely work well for both companies. 
An acquisition would also change the order of the top five semiconductor companies in the world, and it would mark the second-largest semiconductor consolidation in 2016 after ARM Holdings' (ARMH) acquisition by SoftBank for $32 billion.
2015 marked the beginning of a consolidation wave for the semiconductor industry. Several major deals took place during the year, with the total deal value reaching an all-time high of $103.8 billion, according to IC Insights. This trend continued in 2016, but the pace slowed. So far, $55.3 billion worth of M&A (mergers and acquisitions) deals have taken place in 2016.
Article continues below advertisement
What's driving consolidation in the semiconductor industry?
The semiconductor industry is maturing as sales slow in the personal computer and smartphone markets. Amid slowing sales, companies have resorted to acquisitions to boost growth and reduce costs. However, many industry executives have stated that the key factor driving consolidation is the rising cost of product development.
As Moore's Law slows, the costs of developing smaller chips are rising, while cost and performance benefits are falling. Research and development costs are very high in the semiconductor market, and internal product development entails the risk of product failure. KPMG's global semiconductor leader, Lincoln Clark, stated that companies can mitigate the risk of product failures by acquiring already established products.
A broader portfolio enables semiconductor companies to offer comprehensive solutions to their major customers, making it difficult for other companies to compete.
The Avago-Broadcom (AVGO) merger created the world's largest communications semiconductor company.
The NXP-Freescale merger created the world's largest automotive semiconductor company.
Even semiconductor giant Intel (INTC) is acquiring artificial intelligence startups to grow in this space.
2016 semiconductor consolidation
In 2016, there was consolidation in the analog IC (integrated circuit) market. Analog Devices (ADI) acquired Linear Technology (LLTC), ON Semiconductor (ON) acquired Fairchild Semiconductor, and Microchip (MCHP) acquired Atmel.
Analysts expect Texas Instruments (TXN) to announce the next big acquisition, as it's been sitting on the sidelines like Qualcomm, accumulating cash while the semiconductor consolidation wave hits the industry.
NXP's general counsel Guido Dierick believes that the semiconductor industry is still fragmented and has a strong potential to consolidate further.