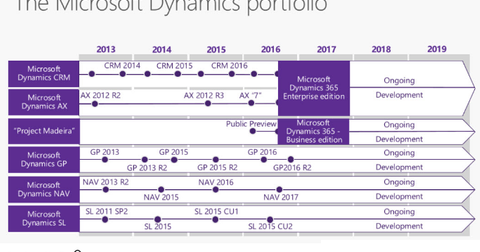 Why Does Microsoft Have Higher Growth Chances in the Consumer SaaS Space?
By Anne Shields

Updated
Huge growth in the SaaS space and acquisitions
In previous parts of this series, we discussed how in 2Q16, Microsoft (MSFT) overtook Salesforce (CRM) to become the overall enterprise SaaS (software-as-a-service) market leader. We also discussed the role of Dynamics business solutions in Microsoft's emergence as a leader in the SaaS space.
According to Synergy Research group, the enterprise SaaS market is relatively mature when compared to the IaaS (infrastructure-as-a-service) and PaaS (platform-as-a-service) markets. But despite its maturity, SaaS is expected to "more than triple in size over the next five years."

Article continues below advertisement
This expected growth in the SaaS space explains the rising competition and the increase in acquisitions by leading players in this space. Moreover, CRM, the largest component of SaaS, is the fastest-growing sector in the cloud computing space. Microsoft's and Oracle's (ORCL) acquisition of LinkedIn (LNKD) and NetSuite, respectively, demonstrate these companies' ambitions to strengthen their presence in this rapidly growing space.
Microsoft's growing dominance represents such a threat to Salesforce's position that it has caused the latter to raise objections about the deal between Microsoft and LinkedIn.
Consumer SaaS market offers growth avenues for Microsoft
According to the same report, Microsoft's revenues from the consumer SaaS space has grown more than two times "on a rolling annualized basis," despite the fact that the consumer SaaS space is much smaller and relatively slower in growth as compared to the enterprise SaaS market.
This segment thus offers significant growth potential to Microsoft. The company has designed and developed its Dynamics CRM Online to provide CRM and analytics applications to business ranging from SMB (small- and mid-size businesses), organizations to segments of global enterprises.
In July 2016, Microsoft announced the combination of its cloud CRM and ERP into one service offering, Microsoft Dynamics 365. This venture is in accordance with Microsoft's "mobile-first, cloud-first" strategy after Microsoft moved Dynamics ERP to the cloud in early 2016. Microsoft's cloud CRM and ERP offerings are available independently as well.
Later in the series, we'll discuss how Microsoft intends to strengthen its position in SaaS by partnering with Adobe (ADBE).