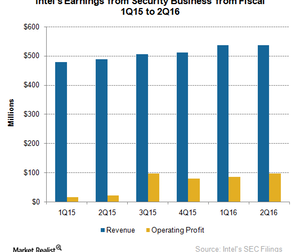 Intel Security Group May Continue to Post Profits in 3Q16
By Puja Tayal

Updated
Intel Security Group
In the previous part of this series, we saw that Intel (INTC) expects to see improvement in its Programmable Solutions business and probably post a profit in fiscal 3Q16. Moving from a loss-making segment to a profitable segment, the Intel Security Group (or ISecG) reported a 10% sequential growth in revenue and a 340% sequential growth in operating profit in fiscal 2Q16.
Intel (INTC) Security has become more profitable as the company refocused its Security business toward endpoint, cloud, actionable threat intelligence, analytics, and orchestration technologies.
The segment is set to launch new products in all these areas between August and December 2016. This would drive growth in fiscal 4Q16 and 2017.
Article continues below advertisement
Intel spin-off security business
Despite high growth, the segment accounted for just 4% of Intel's revenue. In fiscal 3Q16, Intel agreed to sell a 51% stake in its Security business to private investment company TPG in a $4.2 billion cash-stock deal.
In this deal, $3.1 billion will be received in cash and $1.1 billion will be received in equity. However, Intel would continue to retain the remaining 49% stake in the Security business.
McAfee
A separate entity, McAfee, will be headed by Intel Security's general manager, Chris Young. The new company will eye enterprise data centers while continuing to serve device manufacturers and service providers.
With more than $2 billion in revenue, McAfee will be among the world's top ten largest pure-play cyber security companies. McAfee will compete with Symantec (SYMC) and CheckPoint Software (CHKP), which focus on the cloud space. The deal is expected to be completed in 2Q17.
Article continues below advertisement
How will McAfee benefit from the spin-off?
In an interview with CRN, Young stated that working as an independent entity would help McAfee position itself as a pure-play cyber security firm and offer a complete security solution. McAfee would become competitive against emerging startups and big players.
How will McAfee benefit from being partially tied to Intel?
Although McAfee would be an independent entity, Intel (INTC) would still hold a 49% stake in McAfee and would provide strategic backing to the new entity. McAfee would benefit from its collaboration with Intel. On the consumer front, McAfee would continue to serve Intel's OEMs (original equipment manufacturers).
On the corporate front, McAfee would have access to Intel Labs, as well as some research performed by Intel with respect to virtual sandboxing and malware detection.