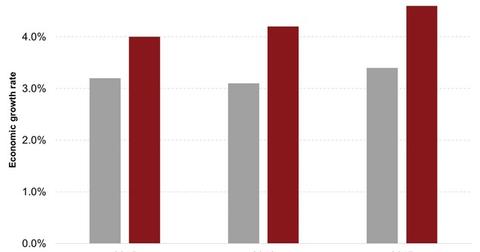 IMF's View on Emerging Markets and Developing Economies
By David Ashworth

Updated
Policy objectives
In its October World Economic Outlook, the IMF (International Monetary Fund) outlined the broad common policy objectives of emerging markets and developing economies (IEMG), including:
continued convergence to higher incomes by reducing distortions in product, labor, and capital markets
giving people a better chance in life by investing wisely in education and healthcare
The IMF noted that in order to achieve these objectives, emerging markets and developing economies need to ensure that they are not financially vulnerable and that their growth won't reverse course. The IMF was specifically referring to countries with:
large and rising nonfinancial debt
unhedged foreign liabilities
heavy reliance on short-term borrowing to fund longer-term investments
These countries would need to undertake stronger risk management measures in order to ensure a more secure financial future. Currency and balance sheet mismatches also need to be attended to—only then can they focus on the development of their citizens.
Article continues below advertisement
Measures for commodity prices
The IMF suggested that the countries that have been hurt most by the slump in commodity prices need to focus on macroeconomic stability. Explaining what that would mean for such countries, the IMF said that countries would need to allow their exchange rates to absorb pressures, specifying that this strategy applies particularly to countries not relying on an exchange rate peg. Such countries would also need to tighten monetary policies to tackle potential surges in inflation.
An emerging market approach
Meanwhile, the delayed rate hike in the US has provided some relief not just to fixed income investors (IEF) (TLT) but also to emerging market countries (EEM) (VWO). Brazil, which was recently hurt by the slump in commodity prices and political uncertainty, now looks to be on better footing.
However, a rate hike in the US looks imminent by the end of the year, and it remains to be seen whether the new establishment in Brazil will be able to spur economic activity again. The situation in China is not completely settled yet either, and so some caution regarding emerging markets is required by investors—especially by moderate risk-taking ones.
Now let's take a closer look at what the IMF had to say about India.