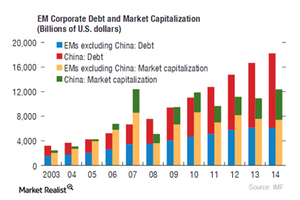 IMF: Rising Emerging Market Corporate Debt Could Lead to Crisis
Emerging market corporate debt is rising
In the last ten years, the corporate debt of emerging market economies (EEM) (VWO) (EDC) has been increasing gradually. The corporate debt level of most nonfinancial companies in emerging economies rose from $4 trillion in 2004 to $18 trillion in 2014, according to the IMF Global Financial Stability report.
Article continues below advertisement
The debt structure in emerging economies is changing
The composition of the total corporate debt is changing in emerging economies (VWO) (EEM). The loan is the major component of corporate debt. In 2004, the loan constituted 9% of the total debt structure, and in 2014, the loan constituted 17% of total debt. Now the issuing of the bond is also increasing gradually. Many firms are issuing more and more debt in the form of a bond.
Emerging markets' corporate-debt-to-GDP ratio has also been gradually increasing. Between 2003 and 2014, emerging markets' corporate-debt-to-GDP ratio rose 26%. The worry is that the rising corporate debt could lead to a financial crisis in emerging markets (EDC), which later could affect the global (ACWI) (VTI) financial system. In the past, we've also seen that the excess leverage in the economy has created many crises in emerging nations.
In China's Surging New Credit Is a Warning Sign for Global Economy, we saw that China's (FXI) (YINN) (MCHI) new credit growth is increasing. In January 2016, new monthly loans stood at 2,510 billion yuan, the highest since August 2015. In August 2016, new monthly loans stood at 948.7 billion yuan. The surging new credit is a warning sign for global investors.
Billionaire investor George Soros has expressed concern several times about China's (ASHR) (MCHI) increasing new credit. The rise in new credit suggests that the government is prioritizing growth instead of controlling debt.
You may be interested to read, Dollar Hits 6-Month Highs: Will It Lead to Equity Market Rout?