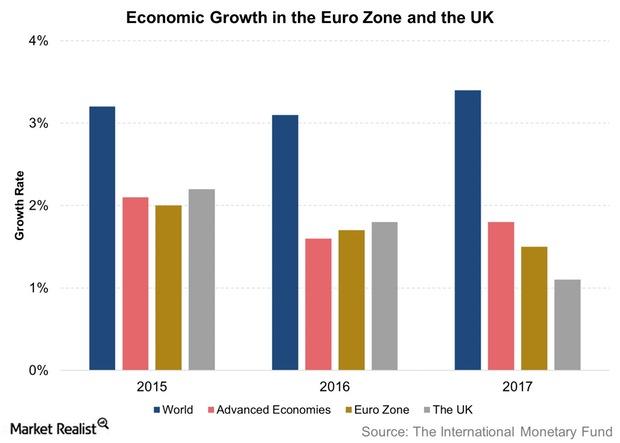 Inside the IMF's Forecast for the Eurozone: Is the Region Poised for Economic Growth?
The IMF's improved forecast for the Eurozone
The IMF (International Monetary Fund) has most recently revised its forecast for economic growth in the Eurozone (EZU) (VGK) upward. As of its October 2016 WEO (World Economic Outlook) report, the IMF expects the region to grow by 1.7% in 2016 and by 1.5% in 2017, as compared to the previous forecast of 1.6% and 1.4%, respectively, in July. While the forecast for 2016 was 1.5% in April, it previously stood at 1.6% for 2017.
Among major member nations of the region, Spain's economy (EWP) is expected to accelerate by 3.1% this year, which is higher than the 2.6% projected in April. Germany's economy (EWG) is also expected to do better than forecasted in April.
The IMF noted that economic growth in the Eurozone fell to 1.2% in 2Q16—a much slower pace than the 2.1% recorded in 1Q16. The primary reason for the deceleration in 2Q16 was the fall in domestic demand—notably, in investments.
On the impact of the UK's Brexit referendum on the Eurozone economy (HEDJ), the IMF report noted that "high-frequency data and corporate survey indicators for July point to a muted impact of the Brexit vote on confidence and activity thus far."
Article continues below advertisement
Reduced forecast for the UK
Unlike the Eurozone, the IMF reduced its forecasts for the UK and now expects the economy to grow 1.8% this year and 1.1% next year. In April, the institution had expected the economy to grow 1.9% this year and 2.2% next year.
The IMF outlined that the UK's economy's pace picked up from 1.8% in 1Q16 to 2.4% in 2Q16. However, it noted that momentum weakened in May and June ahead of the Brexit referendum vote, stating: "Survey indicators for July and August point to a sharp post-referendum retrenchment in manufacturing activity followed by a rebound."
Investors should approach investing in the UK with caution. Eurozone policymakers seem to be in no mood to provide any sort of leeway to the UK during exit negotiations. Although both Europe and the UK will likely be hurt by exit negotiations, things may turn out worse for the UK than it will for Europe. Investors may also want to refer to a recent development in Europe, in which there was speculation about the region's central bank tapering its bond buying program.
Now let's take a look at Japan.