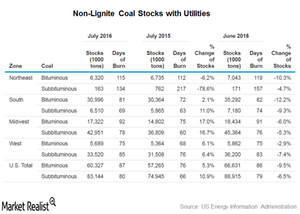 How Lower Coal Stockpile Levels Benefit Coal Miners
By Sheldon Krieger

Updated
Coal stockpiles
In its September 27, 2016, report, the EIA (U.S. Energy Information Administration) published data about utilities' coal inventories at the end of July 2016. Bituminous coal inventories with power plants in the United States fell to 60.3 million tons, or 87 days of burn, at the end of July 2016. This compares to 66.6 million tons, or 86 days of burn, at the end of June 2016.
However, bituminous coal inventories were higher than the 57.3 million tons, or 76 days of burn, at the end of July 2015. Also, sub-bituminous coal inventories saw a decrease to 83.1 million tons, or 80 days of burn, at the end of July 2016 on a month-over-month basis.
This compares to 88.9 million tons, or 79 days of burn, at the end of June 2016. However, inventories are on the rise when compared to 74.9 million tons at the end of July 2015.
Article continues below advertisement
Why it matters
Coal inventories indicate near-term coal demand. Coal-fired power plants burn coal almost continuously, only taking breaks during plant maintenance. The process of extracting and transporting coal also takes time, so utilities tend to stock up on coal in advance in order to avoid disruptions.
Lower coal inventory at power plants is generally positive for coal (KOL) producers such as Peabody Energy (BTUUQ), Cloud Peak Energy (CLD), Alliance Resource Partners (ARLP), and Arch Coal (ACIIQ). This is because these companies can expect demand from utilities that are restocking coal.
Utilities order fresh shipments of coal when inventories reach certain levels. The EIA publishes coal inventory data monthly. Analyzing the data from these reports provides key insights into coal demand in the near future.
However, in the current low natural gas price environment, utilities are likely to switch to natural gas, which can put the expected demand for coal restocking at risk. Moreover, the retirement of coal plants due to the EPA's Mercury and Air Toxics Standards (or MATS) has hampered the demand for coal.
In the final article of this series, we'll look at the latest capacity factors of coal-fired and natural gas–fired power plants.