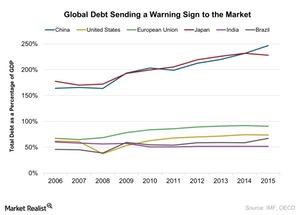 Global Debt Is Hitting Record Highs: Danger Sign for the Market
By Sarah Sands

Updated
Global debt is hitting record highs
According to the IMF, the second risk to the global financial system is that global debt (ACWI) (VTI) is hitting record highs. The increasing debt is a danger sign for global markets (VEU) (VT).
Central banks across developed economies (EFA) (QQQ) (VGK) (SPY) are putting more money into their respective economies in the form of quantitative easing (or QE). Governments across the world are also issuing more debt to fund their fiscal deficit. By issuing debt, they are aiming to increase their fiscal stimulus and accelerate economic activity to boost economic growth.
Article continues below advertisement
Monetary stimulus is losing its efficacy
Central banks' monetary policies in developed nations are losing their efficacy. The power of lower interest rates to boost the economy is weakening. Jim Grant, the founder and editor of Grant's Interest Rate Observer, spoke about central banks' movement in an interview with CNBC on September 23, 2016. He said, "I think the central banks are busy chipping away at the unwarranted faith in their pretense." After the Fed decided to leave the interest rate unchanged at its September 2016 meeting, Grant thinks that market participants are gradually losing confidence in central banks.
Global debt is making new highs. Among all the major nations, Japan (EWJ) and China (FXI) (YINN) are at the highest levels. The increasing debt burden in China (MCHI) is a big worry for investors. The total-debt-to-GDP ratio was still too high at 246% in 2015. Over the last ten years, China's debt-to-GDP ratio has been gradually increasing. The total-debt-to-GDP ratio of Japan was at 227.9% in 2015. According to the IMF, this rising debt is a warning sign for the global economy and a major risk to the global financial system.
In the next part of this series, we'll analyze the IMF's stance on emerging markets' corporate debt.