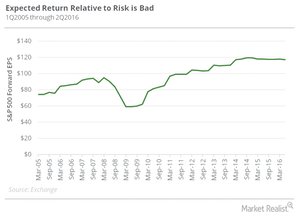 Expected Return Relative to Risk is Bad, Says Ray Dalio
By Surbhi Jain

Nov. 22 2019, Updated 6:21 a.m. ET
Expected returns
We've discussed Ray Dalio's opinion on the current market (SPY) (IWM) and economic environment. Now let's look at his thoughts on the expected return to investors. According to Dalio, the expected return, relative to risk, is bad.
Ray Dalio has indicated which conditions have led to him to such belief. These are as follows:
central bankers are "pushing interest rates down to make them extremely unattractive for savers"
in their attempt to stimulate their respective economies, central bankers are "monetizing debt and buying riskier assets to make debt and other liabilities less burdensome"
Article continues below advertisement
Risk has been rising
"Expected returns relative to their risks are especially bad," said Dalio. If interest rates rise more than what the markets expect, "it will have a big negative effect on bonds and all asset prices." This is because:
• the discounting factor has pushed prices to artificially inflated levels, thereby increasing risk while causing no change in real return
• effective durations have increased due to low rates
• yields will fall further as long as central bankers keep pushing more money into the markets, leading to an increase in the price risk and savers drifting away from bonds as an investment avenue
Consequently, the increase in investment risk, accompanied by either no change or a decline in real returns, offers little hope to investors. Ray Dalio is justified in warning investors that expected returns relative to risk are only going to worsen. Where do investors flee with their funds in such an investment climate?