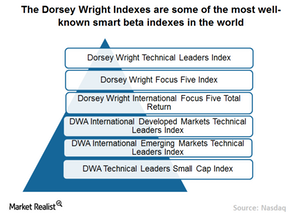 Dorsey Wright Indices: Taking Advantage of Technical Aspects
By Peter Barnes

Updated
Market Realist: We discussed the Dividend Achievers and a suite of products that is more fundamental factor based. With regard to the Dorsey Wright indices, we see a suite of products that take advantage of technical aspects of the market. Can you speak to that and walk us through how investors can benefit from these major categories to achieve their investment goals?
Dave: The fundamental tenet behind Dorsey Wright is relative strength. Relative strength can be applied in any area where there is a price. The technique takes one price, compares it to another price, and then charts it out through the point and figure system to determine a buy or sell signal based on that technical analysis.
Using the relative strength approach we can compare stocks to a benchmark (Apple (AAPL) vs Nasdaq-100 (QQQ)), stocks to stocks (Apple vs Google), benchmark to benchmark (Nasdaq-100 vs Nasdaq Biotech (IBB)), asset class to asset class, (Nasdaq-100 vs Nasdaq Agriculture Index, or Nasdaq LadderRite® investment grade index), or commodities to stocks to bonds all based on their relative price movements. It is a simple, yet elegant solution to determine exposures, and we've seen time and time again that this strategy utilizing relative strength shines over long periods [of time].
Article continues below advertisement