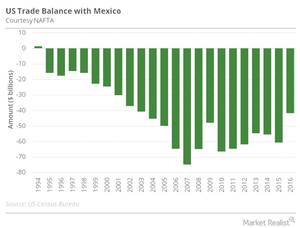 Why Trump Sees NAFTA as the Worst Trade Deal Ever
By Surbhi Jain

Updated
NAFTA: Its pros and cons
Democratic presidential candidate Hillary Clinton wants to tweak NAFTA (North American Free Trade Agreement). Republican candidate Donald Trump wants to renegotiate it. Since 1994, NAFTA has created a common trading market between the United States (SPY) (IWM) (QQQ), Mexico (EWW), and Canada (EWC).
The US trade deficit with Mexico has risen since NAFTA began, as you can see in the above graph. These deficits account for the loss of a large number of jobs. Trump believes these jobs could be brought back into the United States from Mexico. That's why Trump believes that NAFTA was the worst trade deal ever signed by the United States.
Article continues below advertisement
The NAFTA advantage
Some believe there could be a trade loophole, however, in Trump's claims. They say NAFTA has made it easier and cheaper for US companies to move production and jobs to Mexico. There is a huge cost advantage of manufacturing in Mexico. Average hourly US wages in August were $21.63 per hour compared to $2.20 in Mexico (40.1 Mexican pesos converted at the 18.2 Mexican/US exchange rate in mid-August).[1. data source: U.S. Bureau of Labor Statistics and the Mexican Secretariat of Labor and Social Welfare]
Products assembled in Mexico are imported tariff-free into the United States under NAFTA. The same product assembled in the United States would pay duties on the imported parts, which would be more costly for the producer. That's what has been deterring US producers from shifting their manufacturing bases from Mexico back into the United States. Carrier, a United Technologies (UTX) company, just moved its manufacturing plants to Mexico this year.