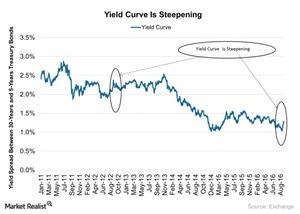 David Tepper on the Bond Market: Yield Curve Should Be Steeper
By Sarah Sands

Updated
David Tepper on the bond market
On Monday, October 17, 2016, in his interview with CNBC's Fast Money Halftime Report, David Tepper was asked about the bond market (BND). He said that bond prices (SHY) (TLT) are at an elevated level in the present scenario and that the central bank's dovish stance is mainly responsible.
The yield curve is steepening in developed economies (EFA) (VEA) because their central banks are maintaining a dovish stance. They're focusing mainly on monetary stimuli to stimulate their economies (QQQ) (VGK).
Article continues below advertisement
Yield curve across various nations
In Europe, pension funds account for a significant portion of government spending. So investments in productive assets aren't beneficial for investors. Productive assets include a development project that can start giving economic returns such as employment and infrastructure development over a period of time.
If an investor invests in these productive assets, it will create inflation, which can later create an inverted yield curve. However, the yield curve is steepening. Healthcare spending by older people implies that there's no room for a rate hike. Interest rates may fall further, but there's a very small chance that they'll rise in Europe.
The United Kingdom's exit from the European Union may lead to stagnant or falling interest rates to stimulate growth. Japan is facing the same problem. Currently, the US Fed is very cautious about an interest rate hike and wants to reach the inflation target of 2.0% before pushing the interest rate higher.
All the above scenarios indicate a very limited chance for a rate hike. The yield spread indicates that market participants expect the Fed to hold the key interest rate steady. When the probability is likely for a constant interest rate (QQQ), investors generally prefer short-term bonds (SHY) over long-term bonds (TLT) (IEF). So the yield spread between 30-year and five-year Treasury bonds rises.
In the next part of this series, we'll look at Tepper's view on the Fed's interest rate hike decision.