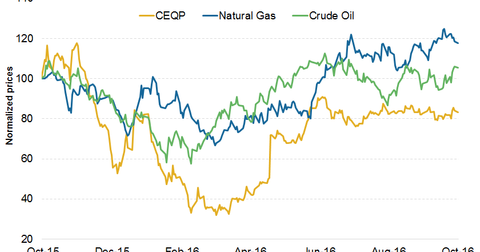 Key for Investors: Crestwood Equity's Commodity Price Exposure
By Kurt Gallon

Updated
Crestwood Equity's commodity price exposure
The earnings of midstream companies, including larger ones such as Williams Partners (WPZ) and Energy Transfer Partners (ETP) and smaller ones such as and Crestwood Equity Partners (CEQP) and Antero Midstream Partners (AM), aren't believed to have much direct commodity price exposure.
CEQP's stock price has a correlation coefficient of 0.42 with crude oil's (USO) price for the past year, while natural gas (UNG) and CEQP have a correlation coefficient of 0.05 for the same period.
Article continues below advertisement
CEQP's correlation with crude oil has risen to 0.45 over the past three months. A correlation coefficient of close to 1 could indicate a strong correlation between two variables. CEQP's high correlation with crude oil likely reflects its involvement in crude oil and NGLs (natural gas liquids) acquisition and marketing activities.
Crestwood Equity's indirect commodity exposure
Midstream companies are indirectly exposed to commodity prices through their production levels. If crude oil and natural gas prices stay low, upstream producers could cut production or even go bankrupt, which could result in lower throughput volumes, lower earnings, and higher counterparty risk. CEQP's throughput volumes have been negatively impacted by production falls in the Bakken Shale, Barnett Shale, and Marcellus Shale regions.
According to Robert Phillips, CEQP's CEO, "We think the crude oil markets are balancing, as supply growth has slowed down, and in many regions has actually turned over. While there is still volatility in oil, we've seen  – we've recently seen a noticeable pickup in activity in our oil­focused areas."
Phillips continued, "On the gas side prices have moved from approximately $2 an Mcf [thousand cubic feet] in early March up to $3 in early July and then back to about $2.75, $2.80 presently. That move has also triggered an increase in activity around the areas where we gather and process natural gas."
In the next article, we'll look at CEQP's counterparty exposure.