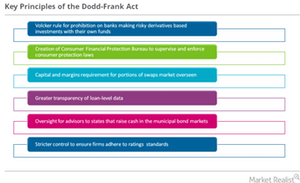 Clinton Wants to Impose a 'Risk Fee' on Large Financial Firms
By Surbhi Jain

Nov. 22 2019, Updated 6:31 a.m. ET
Clinton wants to increase fees and regulations for megabanks
Hillary Clinton supports the Dodd-Frank Wall Street Reform Act. Clinton's support underscores her belief that sprawling global megabanks that pose a systemic risk need to be strictly regulated. "It's not the big banks that need relief from Washington—it's small banks and small businesses," said Clinton.
Clinton proposed a "risk fee" on the largest financial firms. For example, Wells Fargo (WFC) is about twice the size of Goldman Sachs (GS). Goldman relies more on fast-moving capital market funding—compared to Wells Fargo that funds itself mainly with bank deposits.
Article continues below advertisement
Clinton supports the Dodd-Frank Wall Street Reform Act
Clinton said, "We should be doing more to rein in risky behavior on Wall Street (SPY) (IWM)."
The Dodd-Frank Wall Street Reform Act, which has made it more expensive for banks to expand to levels where they begin to pose a risk to financial stability of the system, solves her purpose. She also wants regulators to have greater power to break up an institution that they view as too sprawling and risky. Her plan focuses on a series of changes to incentivize the biggest banks (XLF) to shrink and simplify.
Clinton's campaign wants to increase regulation and fees on the shadow banking system. She thinks that money market mutual funds and hedge funds aren't paying enough taxes. Her campaign also concentrates on the multi-trillion dollar securities lending and repurchase market. It's crucial to global finance.
In the next part, we'll discuss another difference between the two presidential candidates.