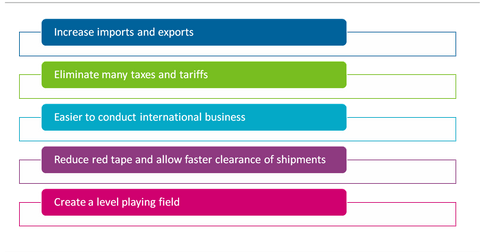 Clinton Supports and Trump Opposes the TPP Trade Agreement
By Surbhi Jain

Updated
Trans-Pacific Partnership
Another regulation that Donald Trump and Hillary Clinton view differently is the TPP (Trans-Pacific Partnership). The TPP is a trade agreement between 12 Pacific Rim countries including the US (SPY) (IWM) and Mexico (EWW). Although the final proposal was signed on February 4, the agreement is waiting for ratification to enter into force.
By opening up cross-border trade between member nations, the TPP is expected to significantly increase imports and exports. It should eliminate many of the taxes and tariffs that were previously applied between nations. It will be easier to conduct international business. Critics, including Donald Trump, think that it will impact industrial sector (XLI) (DIA) jobs.
Article continues below advertisement
Donald Trump is concerned about losing jobs
Donald Trump has always been opposed to the TPP. In April 2015, Trump predicted that the TPP would hurt businesses in the US and lead to unemployment. Trump is deeply concerned about the loss of manufacturing jobs in the country. On several occasions, he reiterated his strong opposition to modern trade deals such as the TPP.
"Our jobs are fleeing the country. They're going to Mexico. They're going to many other countries," said Trump at the beginning of the first presidential debate on September 26, 2016.
Clinton supports the TPP
On the other hand, Hillary Clinton seems to support the TPP. When she was secretary of state, Clinton called the TPP the "gold standard in trade agreements." Clinton dreams of "open trade and open borders."
Recently, Clinton opposed the TPP. She says that it's based on the terms of the proposed pact.
We discussed how the two presidential candidates differ on their views relating to financial and trade regulation. However, there's one area where both of them seem to agree.