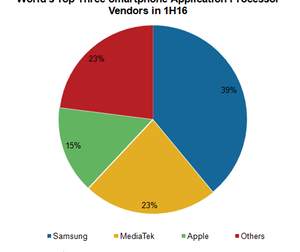 Challenges Lie Ahead for Qualcomm's Chipset Business
By Puja Tayal

Updated
Future of chipset business
In the previous part of this series, we saw that Qualcomm's (QCOM) chipset business has been hit hard due to the loss of orders from Samsung (SSNLF) and Apple (AAPL). Things are unlikely to improve in the chipset business as more and more handset makers, such as Samsung, Apple, and Huawei switch from Qualcomm processor to in-house processors. This changing trend is impacting Qualcomm's application processor market share, as all the three handset makers together account for 43.6% of the smartphone market, according to IDC (International Data Corporation).
Article continues below advertisement
Troubles lay ahead for Snapdragon 830
To replicate the success of the Snapdragon 820, Qualcomm has been preparing to launch the Snapdragon 830 on Samsung's 10nm (nanometer) node by fiscal 2Q17. Android smartphone makers were waiting for Snapdragon 830 samples to arrive to test them before making bulk orders. However, the samples did not arrive, indicating a likely delay in the launch of the chipset.
Recently, China's Economic Daily News, citing unnamed sources, reported that Qualcomm might switch foundries from Samsung to TSMC (TSM) to avoid a delay in the launch of the Snapdragon 830. While Samsung claims to have started mass production on the 10nm node, TSMC has not yet started 10nm mass production. It plans to do so by the end of 2016.
How would a delay in Snapdragon 830 impact Qualcomm's earnings?
Qualcomm's Snapdragon is used by most high-end Android smartphone makers, including Samsung, HTC, Sony, and Xiaomi. As Qualcomm promised the launch of the Snapdragon 830 in early 2017, these handset makers and OEMs (other equipment manufacturers) have planned product upgrades accordingly.
If Qualcomm delays the launch of the Snapdragon 830, this might delay the upgrades of all of its customers. Another option for Qualcomm is to manufacture the Snapdragon 830 on the 16nm node, the same node on which the 820 is being manufactured. This would mean that customers would have to sacrifice the power efficiency and performance the 10nm node would have offered.
However, a delay in the Snapdragon 830 has not yet been confirmed, and things may turn out fine. The 830 processor may be launched on schedule and prove to be a bigger hit than the 820.
Amidst these possible delays, Qualcomm continues to develop chipsets for adjacent markets and is at the forefront of the 5G (fifth generation) revolution. Next, we'll discuss how the company is progressing in these areas.