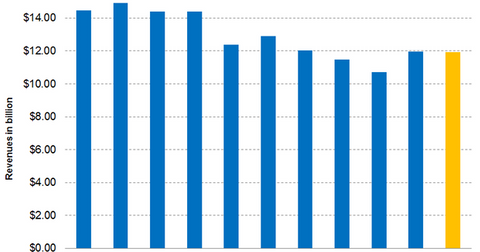 Will Dow Chemical Prove Analysts Wrong in 3Q16?
By Peter Neil

Updated
Analysts' revenue estimate for Dow Chemical
Analysts are expecting Dow Chemical (DOW) to post revenues of $11.9 billion in 3Q16, which is a fall of 0.8% on a year-over-year basis. In the first two quarters of 2016, Dow Chemical has managed to beat analysts' revenue estimates.
So can Dow Chemical repeat this performance in 3Q16 and please investors? Let's take a look at some of the positive and negative factors that could impact Dow Chemical's revenue in 3Q16.
Article continues below advertisement
Revenue-influencing factors
The following factors could influence Dow Chemical's revenue in a favorable manner:
For the first time, Dow Chemical will include a full quarter's revenues from the Dow Corning business after Dow acquired the remaining stake of the joint venture in June 2016.
Dow's management expects the silicone business to continue its double-digit growth in 3Q16 and 4Q16.
The upward trend of home sales data is encouraging and could boost volumes in the building construction and coatings business.
On the other hand, the following factors could impact Dow Chemical's revenue negatively:
The agriculture sector will continue to face headwinds with higher yields and low crop prices.
The slowdown in US auto sales for the third quarter could impact Dow's revenue negatively. The data show that in 3Q15, US auto sales were 53.2 million. In 3Q16, US auto sales fell to 52.3 million.
The more favorable factors, when compared to the unfavorable factors, make the case that DOW stands a chance to beat analysts' revenue estimates.
You can indirectly hold Dow Chemical by investing in the Materials Select Sector SPDR ETF (XLB), which has invested 11.8% of its holdings in Dow Chemical. Other major holdings of this fund include Monsanto (MON) and Praxair (PX), with weights of 8.8% and 6.6%, respectively, as of October 18, 2016.
In the next part, let's look at analysts' prediction for Dow Chemical's net profit margin.