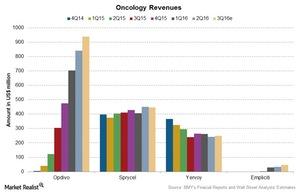 Bristol-Myers Squibb's 3Q16 Estimates: Oncology Segment
By Mike Benson

Oct. 25 2016, Updated 3:04 p.m. ET
Oncology
With its strong performance from Opdivo, Bristol-Myers Squibb's (BMY) Oncology segment has emerged as the company's largest revenue contributor for the past few quarters. The segment contributes around 32% of the company's total revenues, and the segment's key products include Erbitux, Yervoy, Sprycel, and Opdivo.
Article continues below advertisement
Opdivo
Opdivo (nivolumab as generic) is a human PD-1 blocking antibody used in lung cancer and melanoma treatments. Opdivo is part of BMY's alliance with Ono Pharmaceutical. Opdivo is the seventh drug to get FDA (US Food and Drug Administration) approval for the treatment of melanoma since 2011. Opdivo sales are estimated to be $938 million during 3Q16.
Sprycel
Sprycel, an oral inhibitor, is expected to report an 8% rise in revenues to $445 million for 3Q16, driven by the rising demand for the drug in US markets.
Article continues below advertisement
Yervoy
Yervoy is a monoclonal antibody used to treat melanoma. Yervoy revenues are expected to rise marginally in 3Q16, mainly due to competition from other drugs. In US markets, Yervoy revenues are expected to rise as FDA already approved the Opdivo-Yervoy combination for the treatment of BRAF V600 wild-type unresectable or metastatic melanoma in January 2016.
Merck's (MRK) Keytruda (pembrolizumab), a PD-1 blocker (a compound that blocks the interaction between PD-1 protein and its ligands), received FDA approval in 2014 for the treatment of melanoma. Keytruda is a better first-line therapy than Yervoy, which has impacted Yervoy's sales.
Erbitux
BMY has entered into an agreement with Eli Lilly (LLY) to transfer the rights to manufacture and market Erbitux for North America to Lilly's wholly-owned subsidiary, ImClone. The agreement was completed in October 2015. Bristol-Myers Squibb will receive tiered royalties through September 2018 for net sales of Erbitux in North America.
To divest risk, investors can consider the First Trust Nasdaq Pharmaceuticals ETF (FTXH), which has 3.9% of its total assets in Bristol-Myers Squibb, 8.5% in Eli Lilly (LLY), and 4.1% in Prestige Brands Holdings (PBH).