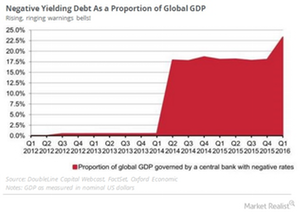 Bill Gross Explains Why Central Bankers Can't Keep Raising Stakes
By Surbhi Jain

Dec. 4 2020, Updated 10:53 a.m. ET
Central bankers are playing a betting game
In his investment outlook for October 2016, Bill Gross of Janus Capital (JNS) compared the central bankers' recent monetary policy measures to wagers placed at a betting game. For some time now, we've seen central bankers perpetually raising the stakes (in the form of lowering interest rates) in their attempts to win the game of stimulating growth in the economy. They've gone as far as taking the rates into negative territory, leading to $15 trillion worth of liability on the global (ACWI) (VTI) balance sheet under the aegis of negative yield developed market (EFA) (VEA) sovereign debt.
Article continues below advertisement
Bankers are ignorant of a grey swan moment
While central bankers may be under the misconception that they can keep doubling down their bets "without risking a black or perhaps grey swan moment in global financial markets," Bill Gross definitely sees an end to this.
First of all, if central bankers keep lowering rates, inflation could start to pose a problem. It's a well-known fact that the availability and cost of money impact inflation rates. The higher the availability and the lower the cost of money, the more prices rise, which leads to an increase in the inflation rate provided other factors don't curtail consumer spending. With the low-interest-rate regimes making money cheap to borrow and artificially boosting asset prices at the same time, inflation may sooner or later become a problem for central bankers.
Another point that Gross makes is related to investors' shift in preference, which we'll discuss in the next part of this series.