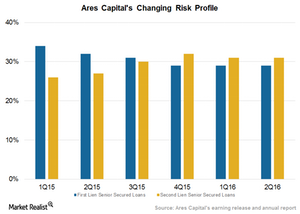 Ares Capital's Second Lien Expected to Dominate Origination
By Robert Karr

Updated
Interest rates, competition
The Federal Reserve has kept interest rates at 0.25% since December 2015. Lower interest rates over the past few years have led to higher liquidity in the market, further driving down rates for debt offerings from corporates.
Amid lower rates, closed-end funds have had to face competition amid rising liquidity for debt offerings, resulting in lower yields for first-lien originations. As a result, companies in the sector are trying to shift their deployments toward retail, real estate, and second lien offerings garnering higher yields at a marginally higher risk.
Ares Capital (ARCC) has deployed more funds into a second lien secured debt in order to garner higher yields. Investments into a second lien now form 31% of the company's total portfolio compared to 29% from first lien senior secured loans.
In the June quarter, deployments into a second lien fell to 24% of the total new commitments. However, deployments are expected to be high in the current quarter and remain above first lien investments for the entire year. Exposure to first lien loans has decreased over the past few quarters, from 34% in 1Q15 to 29% in 1Q16.
Ares Capital has generated returns of 7.2% on its book equity. Below is how some of its peers in investment management have fared in terms of return on equity:
Together, these companies form 6.3% of the PowerShares Global Listed Private Equity ETF (PSP).
September quarter deployments and exits
In the July 2016 quarter, Ares Capital has increased deployments at a faster pace with total investments of $469 million and $343 million of that being funded. These were deployed primarily in SDLP (Senior Direct Lending Program), forming 46% of the total investments. The remaining investments were made in first liens, subordinated loans, and second liens.
Ares Capital has made these investments at a yield of 11.7% on amortized costs, which is higher than the current yields. However, the company exited at a higher pace with total exits of $753 million, including $529 million of investment commitments sold to SDLP. These portfolio investments had yields of 8.1% on amortized costs.