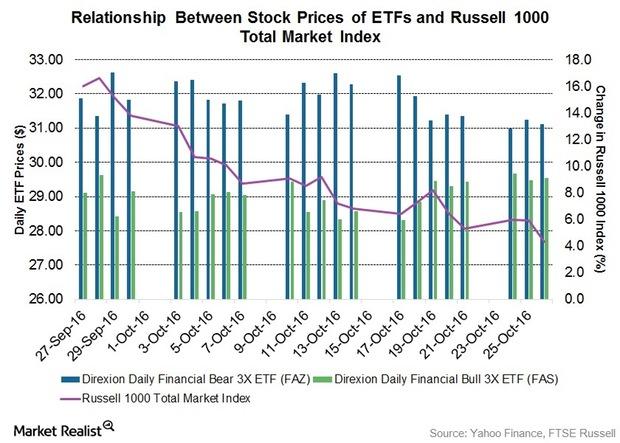 Analyzing Dodd–Frank's Constraints in the US Financial Market
By Penny Morgan

Oct. 31 2016, Published 2:20 p.m. ET
"We now have power under the Dodd-Frank legislation to break up banks. And I've said I will use that power if they pose a systemic risk."—Feb. 4, 2016 Democratic debate
Despite these strong words, some analysts say she'll side with bankers who've hosted her lucrative speeches and warn that she and the Democrats will appease Wall Street.
Donald Trump has said that he would act to repeal the Dodd-Frank Act. In fact, Republicans contend that DoddFrank's Consumer Financial Protection Bureau has dictatorial powers that are overreaching. Its regulatory harassment of local and regional banks, the source of most home mortgages and small business loans, makes it harder for Americans to buy a home.
Article continues below advertisement
Market Realist – Illiquid market scenario
While Republican candidate Donald Trump wants to get rid of the Dodd–Frank Act, especially the Consumer Financial Protection Bureau, Democrat candidate Hillary Clinton wants to retain it.
Dodd–Frank Wall Street reform and the Consumer Protection Act (XLY) (XLP) came into effect in 2010 to promote financial stability in the United States by improving accountability and transparency in the financial system, ending "too big to fail," protecting the American taxpayer by ending bailouts, and protecting consumers from abusive financial services practices, among other purposes.
However, limiting the risks that a financial (KBE) institution is able to take also decreases its profit-making ability. This could harm the competitiveness of US companies relative to their international peers (EWU) (EWG). While capital constraints are safer for an individual institution, these constraints make for a more illiquid market, which could be potent in the bond (BSV) (JNK) market.
In addition, the Dodd–Frank Act has reduced the risk of negative amortization mortgages' increasing borrowers' "ability to repay" after the effects of loose lending during the housing bubble of the mid-2000s. However, scrutinized paperwork and tax-return files make it tougher to get home loans (BKLN) from local and regional banks.
In the coming parts of the series, we'll focus on the election's implications for the healthcare sector and corporate taxes.