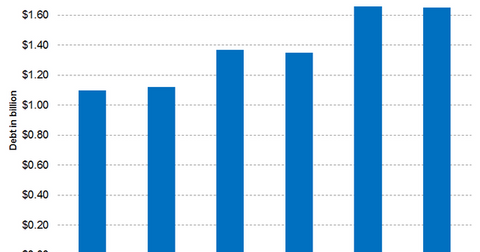 A Quick Look into RPM International's Leverage and Credit Ratings
By Peter Neil

Updated
RPM International's debt
In a capital-intensive industry like paints and coatings, huge capital is needed to set up plants and facilities. As a result, the coating industry generally has a higher debt ratio than other industries. Remember, a high debt-to-equity ratio indicates a company's aggressive growth rate through debt, but this debt also carries the risk of high-interest costs and affects the company's credit ratings.
Article continues below advertisement
In 2011, RPM International's (RPM) debt was at $1.1 billion, with a debt-to-shareholder-equity ratio of 0.8x, or 80%. In the next five years, RPM's debt grew at CAGR (compound annual growth rate) of 8.4%. At the end of fiscal 2016, RPM International's debt stood at $1.7 billion, and its debt-to-shareholder-equity ratio was 1.2x, or 120%.
Valspar (VAL) and PPG Industries (PPG) have better debt-to-shareholder-equity ratios of 0.4x and 0.8x, respectively. However, Sherwin-Williams' (SHW) debt-to-shareholder-equity ratio is higher at 2.2x. RPM's debt rose sharply in 2015 because it had to fund the trust that allowed SPHC to emerge from bankruptcy.
Additional liquidity
In fiscal 2015, RPM International negotiated an $800 million unsecured syndicated revolving credit facility, valid until December 5, 2019. The credit facility can be increased to $1 billion upon fulfilling certain conditions.
To avail the credit facility, RPM has to maintain a minimum required consolidated interest coverage ratio of EBITDA-to-interest (earnings before interest, tax, depreciation, and amortization) expense of 3.50 to 1. At the end of fiscal 2016, RPM's interest coverage ratio was at 9.5 to 1.
Credit ratings
RPM International has been given investment grade rating from major credit rating agencies. These ratings include a "BBB-" with a "positive" outlook from Fitch, a "Baa3" with a "stable" outlook from Moody's, and a "BBB" rating with "stable" outlook from Standard & Poor's.
Notably, investors can hold RPM International indirectly by investing in the SPDR S&P 1000 ETF (SMD), which had a weight of 0.8% in RPM on September 28, 2016.
In the next part, we'll look at analyst ratings for RPM International.