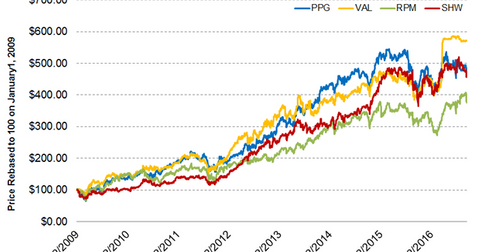 A Glimpse into RPM's Stock Price Movement, Past to Present
By Peter Neil

Updated
RPM stock price at the time of subprime
The subprime loan crisis that broke out at the end of 2008 was the worst financial crisis in the US since the Great Depression. The trouble, which began because of mortgage loan defaults, impacted the global economy negatively, and this slowdown in the housing sector hurt companies like RPM International (RPM), Valspar (VAL), Sherwin-Williams (SHW), and PPG Industries (PPG).
The financial crisis also had a negative impact on RPM's stock prices. From September 1, 2008, to Jan 31, 2009—the peak time of the crisis—RPM's stock price fell 43.2%, while Peers PPG, VAL, and SHW fell 42%, 27.5%, and 21.4%, respectively.
Article continues below advertisement
RPM's stock performance since 2009
Since January 1, 2009, to September 28, 2016, RPM International has given a return of ~274.8%. In 2009, RPM saw its highest return of 48.6%. The stock rose from $13.68 and closed at $20.33. In 2009, RPM recorded revenue of ~$3.4 billion and net income of $119.6 million. In 2009, despite prevailing tough economic conditions, RPM continued its acquisition strategy and acquired several small companies.
But fiscal 2015 was the worst for RPM in terms of stock performance, with the stock returning -13.1% during the year, primarily due to a stock market sell-off at the end of 2015 based on fears of recession. RPM recorded its highest revenue of ~$4.6 billion and net income of $323 million, reflecting a growth of 4.8% and 10.6%, respectively, over the previous year. During that fiscal year, RPM made six acquisitions with combined sales of ~$88 million.
On a year-to-date basis, the stock has risen 16.4%. Analysts expect the 12-month target price of RPM to be at $54.20 as RPM continues its aggressive strategy of acquiring companies for revenue growth.
Investors can hold RPM indirectly by investing in the iShares Core S&P Mid-Cap ETF (IJH), which had 0.95% of its total holdings in RPM International on September 28, 2016.
In the next part, we'll look into the RPM's revenue classification.