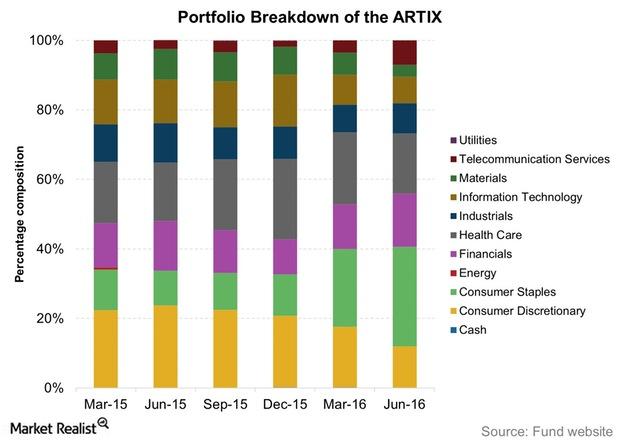 Year-to-Date Portfolio Changes in ARTIX
Artisan International Fund overview
The Artisan International Fund (ARTIX) invests in non-US growth companies whose valuations it finds attractive. Though it has a growth bias, it doesn't have a market-cap bias.
Developed markets remain the focus area for the fund, but it can invest up to 35% of its assets in emerging markets.
The investment team at Artisan focuses on bottom-up stock picking. According to the fund's documents, "We believe investing in high-quality companies with sustainable growth characteristics at attractive valuations that do not fully reflect their long-term potential will lead to outperformance over a full market cycle." The fund house looks for the following when making investments:
Article continues below advertisement
Themes: Management looks for "secular growth trends" and seeks to identify those companies that have "meaningful exposure" to these trends.
Sustainable Growth: Management looks for "high-quality companies that typically have a sustainable competitive advantage, a superior business model and a high-quality management team."
Valuation: Several valuation metrics are used to set a target price range for a company's stock, then its growth prospects are assessed in light of its current valuation.
The fund's assets were spread across 64 holdings in July 2016, and it was managing assets worth $16.3 billion. As of July, its equity holdings included Amazon (AMZN), Canadian Pacific Railway (CP), Willis Towers Watson (WLTW), Orange (ORAN), and Unilever (UL).
Portfolio changes in the Artisan International Fund
ARTIX's top invested sector is consumer staples. Financials is a distant second, followed closely by healthcare. These three sectors combined form 58% of the fund's portfolio. The fund isn't invested in the energy or utilities sectors.
We've looked at the quarterly portfolios of ARTIX for the past three years until June 2016. If we look at the changes in consumer-focused sectors, there's a clear trend. Exposure to consumer discretionary stocks, which reached a peak of ~24% in the above-mentioned period, has fallen to 11%.
Meanwhile, consumer staples formed one-quarter of the portfolio three years ago, fell to one-tenth of the portfolio intraperiod, and is now its largest sector, forming 27.5% of its portfolio. Energy stocks last formed a part of ARTIX in 1Q15.
Healthcare and industrials have seen the opposite treatment. While healthcare stocks form much more of the portfolio than they did three years ago, industrials find themselves out of the top three sectors. Materials have gone out of favor with the fund's management, while telecommunications services have made noticeable inroads.
One thing to keep in mind is that the fund is closed to most new investors.
Have these changes in portfolio composition helped or hurt ARTIX in 2016? Let's look at that in the next article.