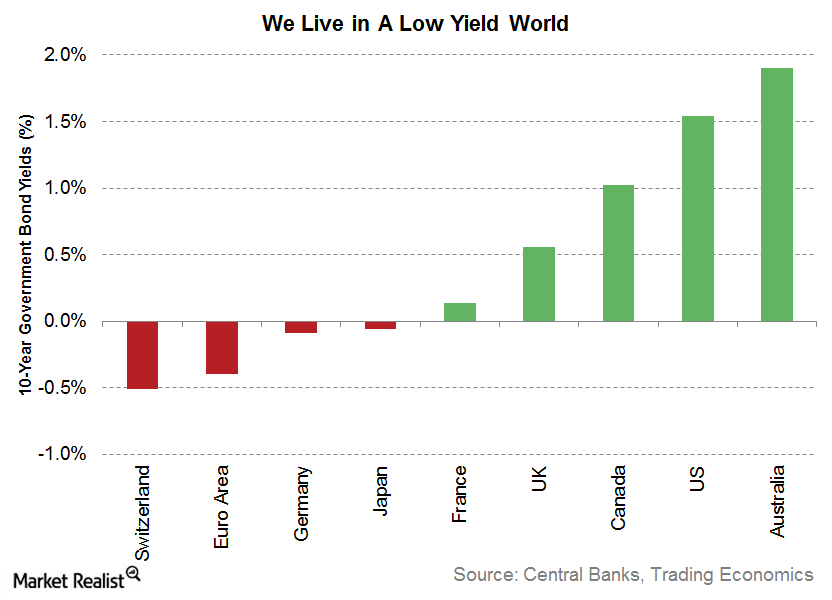 Worriers Welcome!
By Shelly Vinson

Sep. 8 2016, Published 12:16 p.m. ET
Worriers Welcome: hedging using inverse or leveraged inverse ETFs
Direxion inverse and leveraged inverse ETFs from Direxion are funds that seek to provide an inverse multiple (for example, -1x or -2x or -3x) of the daily return of a benchmark before fees and expenses. Inverse and leveraged inverse ETFs cover a broad range of equity, fixed income, commodity, and currency benchmarks. Many investors consider inverse ETFs to be attractive hedging instruments for the following reasons.
Article continues below advertisement
Inverse correlation
An inverse ETF seeks to achieve the inverse of the one-day performance (or a multiple thereof) of the ETF's stated benchmark index before fees and expenses. So buying an inverse ETF may provide index returns with the negative correlation, on a daily basis, necessary to implement an effective hedge, without requiring investors to short securities or use derivative-based strategies.
Accessibility
Inverse and leveraged inverse ETFs trade much like stocks on security exchanges and are generally bought and sold in the same way. Unlike derivatives trading, there are no special accounts or other special arrangements are needed. Intraday Pricing and Liquidity: since inverse and leveraged inverse ETFs trade much like stocks, they are priced throughout the day to reflect market fluctuations. For some investors, this can make it easier for monitoring and rebalancing.
Article continues below advertisement
No margin account needed
Since you are essentially taking a long (owning the asset vs. borrowing an asset to sell short, as explained previously) position in a fund that provides inverse exposure, there's no margin account needed to purchase an inverse ETF.
No chance of losing more than the initial investment
You can never lose more than your initial investment when using leveraged funds. This is in stark contrast to buying on margin or selling stocks short, a process that can cause investors to lose far more than their initial investment.
Article continues below advertisement
Broader diversification as compared to individual stocks
Inverse ETFs may offer a more diversified approach to hedging than shorting an individual stock. Of course, if you are acting on the anticipation of news on a specific company, an ETF may not be the right trade. But if you are considering betting against a sector or asset class, inverse ETFs may be a simpler way to execute your strategy.
Able to use in retirement accounts
You cannot short stocks of any type in an IRA (individual retirement account). The IRS (US Internal Revenue Service) does not allow any form of borrowing in an IRA. You can, however, trade inverse ETFs.
For the average investor, these basic strategies can be used to help protect their portfolios from excessive losses. Each strategy carries pros and cons in timing risk, degree of downside coverage, ease of execution, and capital outlay.
Article continues below advertisement
Market Realist
The current market environment is fraught with worries about a potential rate hike from the US Federal Reserve, the UK's (EWU) vote to leave the European Union (EZU), or Brexit, and the ongoing slowdown in global growth. These anxieties are causing investors to flee to safety through fixed income assets like Treasuries and government bonds. Yields are already depressed and are, in fact, negative in most parts of Europe (VGK) and Japan (EWJ). As can be seen in the graph above, we now live in a low-yield world.
Meanwhile, market volatility (VXX) is likely to remain elevated in the coming times, which means that investors should not be complacent and should look into hedging their portfolios. Inverse ETFs could be an excellent option for investors looking to protect their portfolios from risks and uncertainties.
Inverse ETFs
According to etf.com, inverse ETF assets have grown by 6% in the past 12 months and currently stand at $19.4 billion. According to WisdomTree, inverse products had attracted ~$4.6 billion in global net inflows until June 2016, as compared to the ~$3.9 billion inflows during the same period last year.
Specifically, investors looking to invest in S&P 500-based (VOO) inverse ETFs can look at the Direxion Daily S&P 500 Bear 1x Shares ETF (SPDN) or the Direxion Daily S&P 500 Bear 3x Shares ETF (SPXS). Investors looking to invest in emerging market inverse ETFs can look to the Direxion Daily Emerging Markets Bear 3x Shares (EDZ). Those looking to invest in developed markets can always turn to the Daily Developed Markets Bear 3x Shares (DPK).