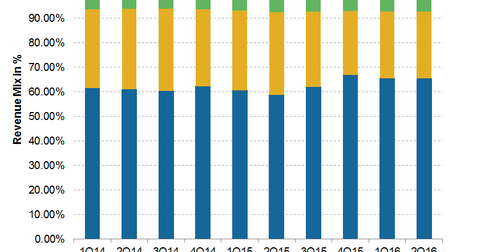 Will 3D Printing Supplement or Replace UPS's Warehousing?
By Samuel Prince

Sep. 21 2016, Updated 7:05 a.m. ET
UPS's Supply Chain & Freight segment
UPS (UPS) operates in three segments. The Supply Chain & Freight segment contributed roughly 16% of the company's total revenues in 2015. Of this segment's total revenues, forwarding and logistics operations contribute 63%. The company's warehousing operations' revenues are included in this forwarding and logistics business.
Article continues below advertisement
UPS's warehousing offerings
In its Supply Chain & Freight segment, UPS offers customized forwarding, transportation, warehousing, distribution, delivery, and post-sales services. Last year, the company expanded its global logistics network through the addition of two million square feet of warehouse space in the United States, Canada, and Western Europe.
UPS's focus on outsourced value-added warehousing was evident with its facility expansion drive in major key markets in 2014. These markets include China, Brazil, and other emerging nations, where demand for value-added warehousing and logistics has soared in recent years.
UPS has 3D printers at around 60 of its stores in the United States. These are capable of printing parts using industrial-grade thermoplastics. The company's customers can upload images for printing at the Fast Radius factory located at UPS's hub in Louisville, Kentucky, or at one of the 60 stores. Upon having parts 3D printed, customers can ship them using UPS's delivery network.
With additive manufacturing gaining momentum, the company's warehouse services might witness a downfall in the quarters to come. Although the company admits that 3D printing is an opportunity, it considers it a threat as well.