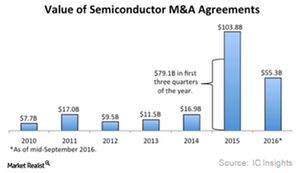 Will 2016's Semiconductor Consolidation Wave Gobble Up Cypress?
By Puja Tayal

Oct. 4 2016, Updated 11:04 a.m. ET
Cypress's product portfolio may attract potential buyers
Analysts have mixed views about the possibility of Cypress Semiconductor's (CY) acquisition. What makes the company a lucrative acquisition target is its product portfolio, which is focused on the high-growth automotive, industrial, and IoT (Internet of Things) markets. According to PricewaterhouseCoopers, chip demand will likely rise in the communications and automotive markets.
Article continues below advertisement
What drove consolidation in the semiconductor industry in 2015?
In 2015, semiconductor demand slowed due to a slowdown in demand for PCs and smartphones. The need to boost growth saw a wave of consolidation hit the semiconductor industry in 2015. The year saw acquisition agreements to the tune of $103.8 billion, according to IC Insights. A majority of M&A (merger and acquisition) deals were made in order to expand product portfolios to include IoT, communication, wearables, and automotive technologies.
Semiconductor consolidation continues in 2016 
This trend continued into 2016, making it the second-largest year for semiconductor consolidation. Until September 2016, M&A deals saw a combined value of $55.3 billion, according to IC Insights. The majority of this value was composed of two big deals:
SoftBank agreed to acquire ARM Holdings (ARMH) for $32 billion in order to expand in the IoT space.
How is 2016's M&A activity different from 2015's?
However, there's a difference between the 2015 and 2016 M&A deals. While 2015's deals involved acquisitions of entire companies, 2016's deals have involved the acquisitions of certain portions of big companies' businesses, divisions, product lines, technologies, or assets as they offload their non-core products.
Among such deals were Cypress's acquisition of Broadcom's (AVGO) wireless IoT business and JAC Capital's acquisition of NXP Semiconductors' (NXPI) Standard Products division. There are rumors that Chinese investors may acquire part of Marvell Technology's (MRVL) business to avoid rejection from government authorities.
If Cypress opens up for acquisition, Intel (INTC) and Texas Instruments (TXN) are believed to be the potential buyers, as they're looking to expand in the automotive and IoT space. Let's see how Cypress investors has reacted to the rumors.