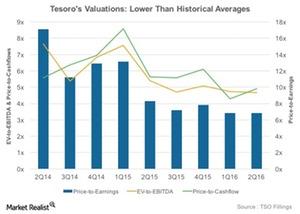 Why Tesoro's Valuation Is Lower Than Its Historical Average
By Maitali Ramkumar

Updated
Tesoro's valuation: PE ratio at its lowest
Tesoro (TSO) traded at an average PE (price-to-earnings) ratio of 10.2x from 2Q14 to 2Q16. PE measures a company's price per share as a multiple of its earnings per share (or EPS).
As the PE ratio considers both market price and EPS, it remains vulnerable to changes in both parameters. A stock's price is subject to equity market volatility. On the other hand, EPS are driven by revenue and costs, which are affected by numerous factors.
Tesoro's PE ratio has also experienced this volatility in the past two years. Favorable refining margins have led to a rise in earnings from its Refining segment. Amid fluctuations, TSO's PE ratio fell from 17.1x in 2Q14 to 6.8x in 1Q16, lower than its historical average.
Article continues below advertisement
Tesoro's EV-to-EBITDA and price-to-cash flows
From 2Q14 to 2Q16, TSO's EV-to-EBITDA and price-to-cash flow ratios stood at averages of 5.8x and 6.0x, respectively. Even these two ratios are subject to market fluctuations and the company's performance. Enterprise value—market capitalization plus debt minus cash—reflects the theoretical purchase value of the entire company.
In 2Q14, TSO's EV-to-EBITDA stood at 7.6x, its highest level. In 2Q16, the company's price-to-cash flow stood at 5.6x. Both ratios fell from 2Q14 to 2Q16 due to a steep rise in earnings. TSO's EV-to-EBITDA and price-to-cash flow stood at 4.7x and 4.9x in 2Q16, lower than its historical averages.
Alon USA Energy (ALJ), Western Refining (WNR), and Northern Tier Energy (NTI) traded at EV-to-EBITDAs of 6.8x, 5.3x, and 8.0x, respectively, in 2Q16. The Vanguard Energy ETF (VDE) has ~8% exposure to the sector.
But why is Tesoro trading lower than its historical averages?
Tesoro is trading at valuations below its historical averages because its earnings and cash flows have risen steeply compared to the rise in its stock price. 
Though TSO is on a growth trajectory, the rises in its leverage and volatility in the refining environment are likely weighing on the stock.