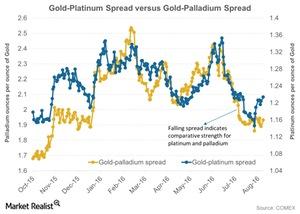 What's Happening to Platinum and Palladium Cross-Commodity Rates?
By Meera Shawn

Updated
Cross rates
During the past five trailing days, all precious metals except silver have been on a downward trend. Where gold, platinum, and palladium fell by 0.69%, 2.3%, and 3.6%, respectively, on a five-day trailing basis, silver rose by 1.3%. A crucial indicator of the platinum and palladium markets is their cross-commodity rate with gold.
The gold–platinum and gold–palladium spreads measure the number of platinum and palladium ounces it takes to buy a single ounce of gold. Although this spread has seen its ups and downs over the past few months, the Brexit vote resulted in some relative strength for platinum and palladium, which was evident in falling cross-commodity rates. Once again, these metals are taking over gold, thus increasing their respective spreads.
Article continues below advertisement
The gold–platinum and the gold–palladium spreads were at 1.25 and 1.97, respectively, on September 1, 2016. Fluctuations in these precious metals are closely reflected in funds such as the Physical Platinum Shares ETF (PPLT) and the Physical Palladium Shares ETF (PALL). These two funds fell by 10.3% and 6.7%, respectively, on a 30-day trailing basis.
The only miners relating to the precious metals that fell on Thursday were Aurico Gold (AUQ), Rio Alto Mining (RIO), and First Majestic Silver (AG).
RSI level
As these four precious metals have been falling over the past month, their RSI levels have decreased substantially. The RSI for platinum and palladium was 31.3 and 42.4, respectively. A level above 70 indicates that an asset has been overbought and could fall. A level below 30 indicates that an asset has been oversold and could rise.
There are chances that these metals may rise, overtaking gold. However, the RSI for gold is also substantially lower at 38.3.