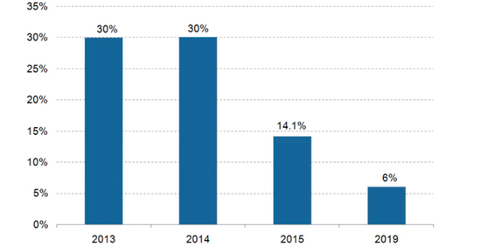 Could Twitter Be LinkedIn Alternative for Salesforce?
By Anne Shields

Updated
Twitter could be a viable alternative
Earlier in this series, we discussed ongoing rumors of Twitter (TWTR) becoming a part of Salesforce (CRM). In 2012, Salesforce entered into a partnership with Twitter, under which the latter was feeding data related to social media into Salesforce's analytics systems. Twitter is not the first social media company Salesforce has considered. We know that Salesforce's bid for LinkedIn (LNKD) prompted Microsoft (MSFT) to raise its own bid for the company.
Article continues below advertisement
According to MarketWatch, Mark Benioff stated that Salesforce's first choice was LinkedIn: "And when that happened, it really triggered our process, because all of a sudden, a great company that is a unique asset, that's strategic, was available at a great price. And so we made a bid for LinkedIn, and another company, as you know, Microsoft, made a bid, and Microsoft outbid us. And that happened for a lot of different reasons, but we thought that that was a great asset at a great price." With LinkedIn now out of bounds, Salesforce is left with no other option but Twitter.

What could drive Twitter's buyout?
Salesforce may also be drawn to Twitter's stock price, which has been beaten down since its IPO (initial public offering) in November 2013. According to eMarketer and as the chart above shows, Twitter's MAU (monthly active users) fell drastically between 2014 and 2015, and the number is estimated to fall further by 2019. It's apparent that Twitter is reeling under the slow user expansion and slowing revenue growth. These concerns are visible in Twitter's stock price, which has lost close to 46% of its value since its IPO. Recently, Twitter's stock saw a surge on the back of speculation of its possible acquisition by various technology players and The Walt Disney Company.