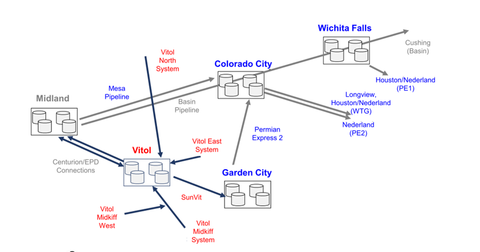 Sunoco Logistics to Buy Vitol's Midland Assets for $760 Million
By Kurt Gallon

Updated
Sunoco Logistics' acquisition of Vitol's Midland assets
Sunoco Logistics Partners (SXL)—part of the Energy Transfer Family that is involved in crude oil, NGLs (natural gas liquids), and refined product transportation and marketing—announced the acquisition of Vitol's integrated crude oil business in the Midland Basin for $760 million plus working capital. Energy Transfer Partners (ETP) and Energy Transfer Equity (ETE) directly or indirectly own the GP (general partner) interest and IDRs (incentive distribution rights) in SXL.
The acquisition complements SXL's exiting assets in the Permian basin and is considered a key part of SXL's growth strategy in the region.
Article continues below advertisement
According to Michael J. Hennigan, SXL's CEO, "The addition of the Vitol system is an excellent synergistic fit to our growing crude platform in the Permian Basin. The Permian Basin is the most prolific of all of the US shale areas with strong growth expectations. The Vitol pipeline assets are located in what we believe are the three best counties in the Midland Basin. Adding a two million barrel terminal in Midland is very complimentary to our Permian strategy."
Vitol's Midland crude assets
According to the company, Sunoco Logistics' acquisition of Vitol's Midland crude assets would include the following:
a "two million barrel crude oil terminal in Midland, Texas including SunVit" that would system would connect to SXL's Permian Express 2 and West Texas Gulf pipeline system
a "crude oil gathering and mainline pipeline system in the Midland Basin"
"significant acreage dedication from an investment grade Permian producer"
"crude oil inventories related to Vitol's crude oil acquisition and marketing business"
"50 percent interest in SunVit Pipeline" (after the acquisition, SXL would own 100% in the pipeline system)
According to the related investor presentation, nearly "90% of throughput volume" would be "supported by acreage dedication or take or pay contracts." The partnership is expecting to close the transaction in 4Q16.
In the next part, we'll see why SXL and other midstream companies are currently focused on Permian expansion.