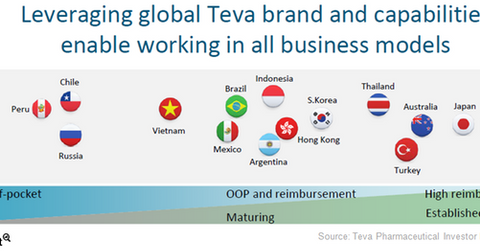 Strong Brand Positioning Expected to Strengthen Teva's Position
By Margaret Patrick

Updated
Strong brand positioning
Teva Pharmaceutical's (TEVA) strategy of selectively focusing on certain countries has helped it witness double-digit organic growth in the growth markets. Teva has also completed significant acquisitions such as Actavis Generics and Representaciones e Investigaciones Médicas (or Rimsa) in Mexico. It has also entered into a business venture in Japan with Takeda Pharmaceutical (TKPYY), called Teva Takeda Yakuhin.
Article continues below advertisement
Teva Pharmaceutical has been leveraging its strengths, which include a focus on quality, a supply chain, a broad portfolio, and a robust R&D (research and development) pipeline to meet the unmet demand in the growth markets. The company is tough competition to other generic players in the growth markets such as Mylan (MYL) and Perrigo (PRGO).
Various business models
The above diagram lists the major growth markets and the business models of the generic pharmaceutical industry in each of these markets. Based on these business models, Teva Pharmaceutical creates its strategy to position its brand and differentiate based on quality.
In emerging economies such as Peru, Russia, and Chile, drugs are mainly financed through out-of-pocket spending. In those countries, Teva has to focus on increasing its brand recall for both physicians and patients. Maturing markets such as Vietnam, Brazil, Mexico, Indonesia, South Korea, Argentina, and Hong Kong have mixed out-of-pocket and insurer reimbursement models. Physicians and payers both determine the demand for various drugs.
Finally, there are established markets such as Thailand, Australia, Japan, Turkey, and Israel with reimbursements determined by health insurers. In these countries, Teva Pharmaceutical implements branding and marketing strategies similar to those deployed in the United States.
If Teva Pharmaceutical succeeds in expanding in the growth markets, it may raise the company's share prices as well as those of the Vanguard FTSE All-World ex-US ETF (VEU). Teva Pharmaceutical makes up about 0.50% of VEU's total portfolio holdings.
In the next part of the series, we'll take a look at Teva Pharmaceutical's strategy in key growth markets such as Japan, Russia, and Latin America.