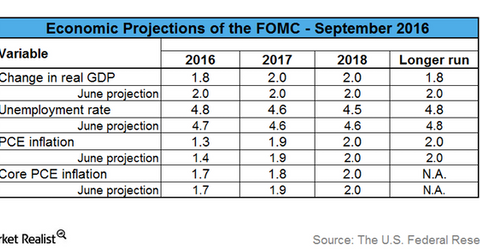 September 2016 Projections: US GDP Growth and Unemployment
By David Ashworth

Updated
Forecast for US GDP growth revised down
Apart from inflation, the September SEP (Summary of Economic Projections) also projected the growth pace of US GDP (gross domestic product) growth and the unemployment rate.
FOMC (Federal Open Market Committee) participants have toned down their projections for US GDP growth in 2016 for the second successive quarter. The central tendency, which excludes the three highest and three lowest projections, for US GDP growth for 2016 has fallen to 1.7%–1.9% in September from 1.9%–2.0% in June. Even the median expectation of economic growth has fallen from 2.0% in June to 1.8% in September. In March, the median for US GDP growth in 2016 stood at 2.2%. Expectations for 2017 and 2018 were broadly left unchanged.
Article continues below advertisement
Lower exports and business spending seem to be the main reasons behind the reduction in economic growth projections for the year. With Europe in general and Britain in particular expected to see a significant economic slowdown or recession, policymakers in the US seem to be factoring in a fall in exports to these major trading partners.
A strong dollar (UUP) is detrimental to exports. Though discretionary spending, which helps companies like Comcast (CMCSA) and Amazon (AMZN) and homebuilders like DR Horton (DHI), will likely help GDP growth, lower business spending could put pressure on economic output. Lower business spending could also impact equities (DIA) (VTV) in general as well.
Unemployment rate projections
Policymakers expect the unemployment rate to be a little higher in 2016 than in June. The median of projections for the unemployment rate in 2016 has nudged up to 4.8% from 4.7% in June. There is almost no change to unemployment rate projections in 2017 and 2018.
Expectations for future rate hikes
Apart from releasing projections on economic growth, the unemployment rate, and PCE inflation, policymakers also release expectations on the likely path of the federal funds rate. Let's look at that in the next article.