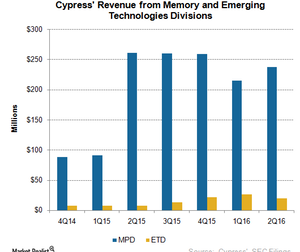 Which Segments Are Keeping Cypress Profitable?
By Puja Tayal

Updated
Memory Products division
In the previous part of the series, we saw that Cypress Semiconductor (CY) reported falling revenue and losses in its Programmable Solutions division as strength in automotive demand was offset by weakness in industrial demand.
Let's now look at the company's MPD (Memory Products division), which benefited from its Spansion merger, rising almost threefold, from $91.5 million in 1Q15 to $261.4 million in 2Q15.
The MPD offers SRAM (static random-access memory), NOR flash, NAND flash, and F-RAM (ferroelectric random-access memory) products.
Article continues below advertisement
Memory market
The non-volatile memory market had a slow start in 2016 as a fall in smartphone sales caused memory demand to slow and memory prices to fall. Memory chip giant Micron Technology (MU) reported losses in 2016 as slow demand and falling prices impacted its profits.
Memory Products division's earnings overview
This also impacted Cypress's MPD revenue, which fell 9% YoY (year-over-year) to $244.4 million in 2Q16, accounting for 53.5% of the company's revenue. However, things have improved in the non-volatile memory market.
NAND prices rose between June and August 2016 as all memory suppliers, including Intel (INTC), SK Hynix, and Toshiba (TOSBF)/SanDisk, made the transition to 3D NAND. This caused a supply shortage as demand increased. The improved market conditions are likely to be reflected in Micron's upcoming earnings. They may also be reflected in Cypress's MPD earnings in 3Q16.
On the profit front, memory was the largest contributor toward the company's profits. In 2Q16, the MPD's operating income rose 7% YoY to $53.4 million. Another segment that reported profit was the ETD (Emerging Technologies division), the company's smallest segment by revenue.
Emerging Technologies division
The ETD includes startups, technologies in the development stage, and Cypress's foundry business. At present, the ETD includes non-volatile DIMM (dual in-line memory module) manufacturer AgigA Tech and back-end process technology provider Deca Technologies.
In 2Q16, ETD's revenue rose 156% YoY (year-over-year) to $19.7 million, accounting for 4.3% of the company's revenue. The division shifted from an operating loss of $3.2 million in 2Q15 to an operating profit of $2.3 million in 2Q16. This segment is likely to grow in 3Q16 as demand for DIMMs rises on a rise in PC sales.
Next, let's look at Cypress's Data Communications division, which is likely to triple in 3Q16.