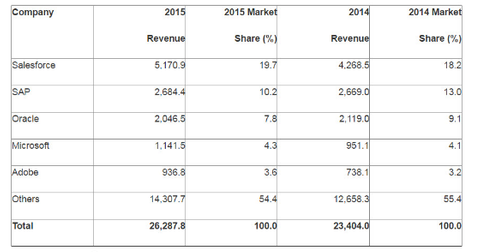 How Salesforce's Einstein Affects Its Place in CRM Space
By Anne Shields

Updated
Salesforce Einstein will be integrated with company's offerings
Earlier in the series, we discussed  Salesforce Einstein, the company's upcoming offering in the AI space. Salesforce Einstein will be integrated into the company's cloud services and offerings.
Salesforce is optimistic about Salesforce Einstein's positive impact on its leadership position in the CRM space. Regarding Einstein, the company stated, "This is going to be a huge differentiator and growth driver going forward, and it puts us well ahead of our CRM competition once again."

Article continues below advertisement
CRM is witnessing tremendous M&A activity
According to Gartner's recent research report on the CRM (customer relationship management) space, Salesforce continues to lead with a 19.7% market share. It is followed by SAP (SAP) and Oracle (ORCL), which held 10.2% and 7.8% of the market, respectively, in 2015. Microsoft (MSFT) and Adobe are other leading players in this space.
The global CRM market grew by 12.3% in 2015. Among the market players, Adobe (ADBE), Salesforce, and Microsoft grew faster than the overall CRM market. Adobe grew the fastest in this space. Its revenues grew 26.9%, while Salesforce and Microsoft reported revenue growth of 21.1% and 20%, respectively.
CRM is the largest player in the SaaS (or software-as-a-service) sector, which is the fastest-growing sector in the cloud computing space. According to the Cisco (CSCO) Global Cloud Index, SaaS is expected to be the fastest-growing cloud service through 2018. SaaS is expected to grow at a compounded annual growth rate (or CAGR) of 33%, whereas the cloud market as a whole is expected to grow at a CAGR of 24%. The recent acquisitions by Microsoft and Oracle of LinkedIn (LNKD) and NetSuite, respectively, demonstrate these companies' ambitions to scale up in the CRM space.
The increased competition and consolidation in the CRM space coupled with the slowing growth of Salesforce in the CRM space urged the company to look for ways to strengthen its presence in this space. Salesforce added BeyondCore to its portfolio to strengthen its CRM offerings with predictive data analytics and AI (artificial intelligence) capabilities. Salesforce Einstein is also the company's strategic step to strengthen its presence in the rapidly growing CRM space.