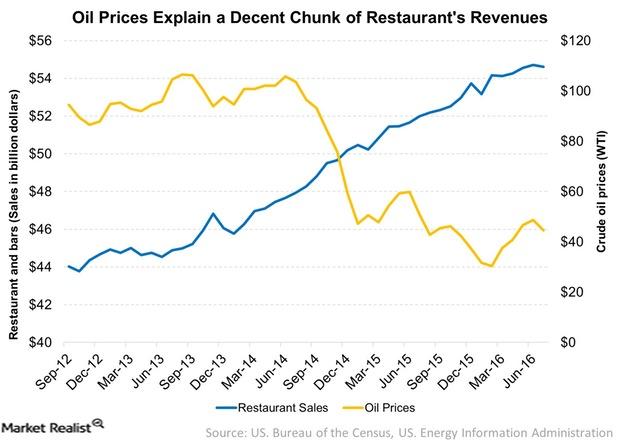 Restaurant Spending: A Continuing Trend
By Sanmit Amin

Sep. 19 2016, Updated 3:04 p.m. ET
Restaurant Spending: A Continuing Trend
While restaurants fall in the consumer discretionary sector, the bottom line is simple: people need to eat – and they have endless choices on how to satisfy this need. Over the past 150+ years, historical trends have revealed that people are turning toward restaurants to do so, while steering away from food at home.
In addition to historical trends that point toward increased spending outside the home, 2016 spending has revealed high growth for the category, with the CSG (Chain Store Guide) Restaurant Spending Index increasing to an all-time high of 110.2 this past June.
For the first time ever in March 2015, Americans spent more eating out at restaurants and bars than they did on groceries.
Article continues below advertisement
Market Realist – Restaurant spending has soared over the last few years.
Restaurant and bar sales have surged by more than 24% over the last four years. This trend has been supported by lower oil (USO) prices, as the graph above shows.
Domino's Pizza (DPZ), for example, saw a very impressive 9.1% rise in same-store sales in the United States in 2Q16, beating Wall Street estimates. The company attributed some of its growth to its new mobile app (application) in which customers can fill out their pizza profiles and don't have to swipe or click to place an order. It's called "zero click ordering." We'll look at the impact of the mobile sector on restaurant sales in a later part of this series.
The above graph compares US retail sales for grocery stores against restaurants and bars over the last 24 years. In the 1990s, households spent more on groceries than on eating out. Then spending on eating out gradually increased. Currently, households spend more on restaurants than on groceries. This suggests that investing in restaurants could be a good idea, if the trend continues. Rather than suffering the volatility involved with choosing a few such stocks for your portfolio, investing in a broader restaurant-industry basket, such as BITE, may provide less volatile exposure to restaurant businesses.