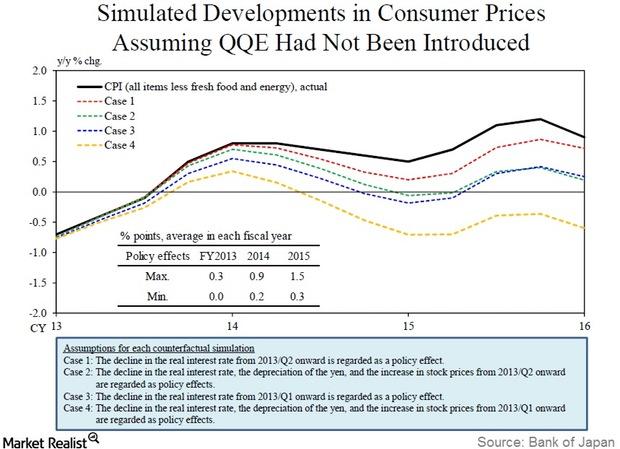 Why Has QQE Failed to Raise Inflation in Japan?
By David Ashworth

Sep. 29 2016, Updated 10:21 a.m. ET
QQE has worked, or has it?
While speaking to business leaders in Osaka, Haruhiko Kuroda, governor of the Bank of Japan, extolled the virtues of the central bank's QQE (quantitative and qualitative monetary easing) program. He said that the bank's simulations, presented in the graph below, showed that without QQE, inflation would have been even worse in Japan. He also said that corporate profits (IX) (NMR) (SMFG) and stock prices (EWJ) (JPMV) have benefited from QQE.
But as we saw in the previous part of this series, if QQE was so effective, then why has inflation not moved toward the 2% target set by the central bank?
Article continues below advertisement
Inflation expectations are to blame
Kuroda pointed out that the primary reason inflation hasn't risen in Japan is what he calls the deflationary mindset—the view that prices will not rise. The extended period of deflation that the Japanese people have witnessed over the past decade or so has set in their psyche. This attitude has resulted in businesses and individuals holding on to cash instead of taking risks.
To get inflation expectations back on track, the Bank of Japan set a target of 2% inflation and launched QQE in order to achieve it as quickly as possible. However, that didn't work out so well.
Impact of the deflationary mindset
If individuals and businesses don't believe prices will rise, they'll have little incentive to invest or spend. That's what's happening in Japan. Workers aren't able to demand much higher wages since businesses don't think prices will rise in the future, which would justify a salary hike. They're also not investing in their businesses because of this deflationary mindset.
Since individuals don't get sizable pay rises, they're not inclined to spend much on discretionary items. Further, they're happy to park their savings in cash at the bank even though they're not earning any interest on it.
Kuroda pointed out that inflation expectations are set differently in Japan than in some other nations. We'll look at this interesting aspect in the next part.