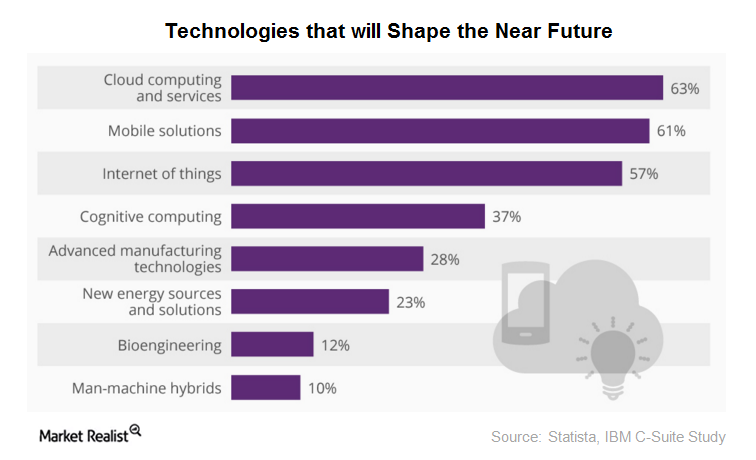 Why Is Oracle on a Cloud Acquisition Spree?
By Anne Shields

Nov. 20 2020, Updated 12:36 p.m. ET
Oracle lags behind peers in the cloud
Previously in this series, we discussed Oracle's (ORCL) recent acquisition of LogFire, as well as its strategy to achieve growth in the cloud space. So far in 2016, we've seen several acquisitions in the cloud space, and these deals indicate growing competition and consolidation.
At the same time, we know that Amazon.com (AMZN), along with Microsoft (MSFT), IBM (IBM), and Google (GOOG) (GOOGL) account for more than 50% of the cloud space. The next biggest 20 players include Rackspace (RAX), Oracle (ORCL), salesforce.com (CRM), and VMware (VMW) and have grown 41% on average on a yearly basis. These 20 players collectively held 27% of the cloud space.

Article continues below advertisement
On the surface, the growth posted by these top 20 players mentioned earlier in the series looks promising. However, when we compare their growth figures with the growth in the overall cloud space, it doesn't appear to be satisfactory. Synergy Research estimates show that the cloud space is growing at a rate of more than 50%, while these 20 players, including Oracle, reported an average yearly growth of 41%, indicating that they are losing market share.
It's this mounting pressure in cloud space that made Rackspace (RAX) yield to Apollo Global Management's buyout offer.
Thus, huge growth in the cloud space, rising competition, falling revenues, and its new focus on improving its position in the cloud have made Oracle hungry for strategic acquisitions.
Growth and significant cash reserves
Also, like many of the technology companies, Oracle has significant cash reserves, and the company intends to put these to use. However, as the majority of their cash is parked outside the US, many tech companies have had to resort to bond issuances to borrow for acquisitions, dividends, and buybacks. This explains why Oracle announced its biggest bond sale ever ($14 billion) in late June 2016.
Notably, Apple (AAPL) raised $1 billion in Australian bonds (EWA) in June 2016, and Microsoft (MSFT) resorted to debt to fund its latest and largest-ever acquisition of LinkedIn (LNKD) for the same reason.
In the next part, we'll take a closer look at the current competition in the cloud.