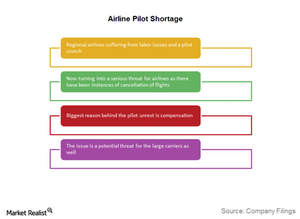 On Top of Everything Else, Airlines Must Deal with Pilot Shortages
By Ally Schmidt

Updated
Labor crisis overview
Airlines in the US have been facing a pilot shortage and other labor issues for quite some time. The intensity of the crisis can be understood by the fact that Republic Airways filed for bankruptcy protection due to the labor crunch. Republic Airways operates flights for Delta Air Lines (DAL), United Continental (UAL), and American Airlines (AAL).
Article continues below advertisement
Issues concerning labor
There are a host of issues that have been concerning the labor workforce in the nation. These issues include longer working hours, contentious relations with management, fewer job protections, a fair work-life balance, and stability.
However, the prime issue that has led to a crisis in regional airlines is that the regional players pay much less than their legacy peers, even when the regional sector accounts for half or more of all flying. These regional carriers are also important since they feed the legacy carriers with passengers on their networks.
Industry pay below par
The costs involved in becoming a commercial pilot are comparatively higher than the pay they receive when they qualify for the job. Prospective pilots pay roughly $150,000 for the requisite classroom training, flight hours, and college degree. However, they start off with annual salaries of ~$20,000 apart from working sometimes-punishing hours and minimal benefits.
Although the issues are at an early stage, we believe that airlines need to work on building better packages to retain pilots. If these issues are not addressed soon, the industry could face a severe labor crunch.
US airline industry to suffer
While most of the airlines that are suffering from the labor crunch are mid-sized carriers, the issue is a potential threat to the large carriers as well. Large carriers such as United Airlines (UAL) and Delta Air Lines (DAL) depend on these mid-sized airlines to serve their rural passengers, feeding them into their route networks. If the pilot shortage is not fulfilled soon, the industry could experience a serious crisis.
Investors can gain exposure to airlines by investing in the PowerShares Dynamic Leisure & Entertainment ETF (PEJ), which invests ~30% in airline stocks such as Alaska Air Group (ALK).