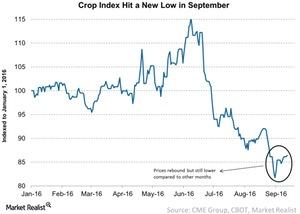 Why the Near-Term Outlook for Agricultural Chemicals Looks Cloudy
By Adam Jones

Sep. 13 2016, Published 12:22 p.m. ET
The crop index
Each month, the USDA issues a report on the global stock-to-use ratios for key crops such as corn, soybeans, and wheat. The USDA issued its latest report on September 12.
This ratio essentially shows the level of global carryover stock remaining as a percentage of total global use of the respective crop commodity. This helps gauge how the prices could move in the near term.
The stock-to-use ratio has an impact on crop prices (MOO), which were much lower on September 12, 2016, than in the beginning of the year. They have remained mostly below their past five-year prices.
Article continues below advertisement
September levels
The crop index[1. a median of historical spot prices of key NPK-consuming crops—corn, wheat, soybean, and rice—indexed to 100 on January 1, 2016] fell to a new low of 81.7 at the end of August 2016. However, prices of key crop commodities such as corn, soybean, and wheat have recovered since then.
The crop index stood at 86.4 on September 12. The index is significantly below its peak of slightly above 115 in June 2016.
Cloudy outlook
Low crop prices raise concerns about the recovery in the agricultural chemical sector. Low crop prices mean lower farm incomes. This pressures farmers to rethink their operating expenses, including fertilizers and seeds. This impacts companies such as Monsanto (MON) and Syngenta (SYT).
In 2015, fertilizers represented 41% of the operating costs for corn in the US, according to the USDA. So naturally, prices of fertilizers are also impacted by declining crop prices, which in turn affects nitrogen companies such as Terra Nitrogen (TNH) and CVR Partners (UAN). Nitrogen fertilizer must be applied every year, unlike phosphate and potash fertilizers.
In this series, we'll discuss the latest stock-to-use ratios and prices for corn, soybeans, and wheat. We'll begin with the corn stock-to-use ratio.