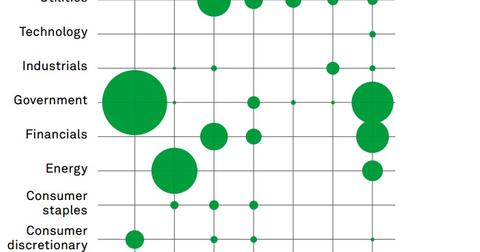 What Looks Like a Game-Changer in Climate-Aware Investing?
By Richard Turnill

Updated
Climate-aware investing does not have to mean compromising on traditional goals of maximizing investment returns, as this week's chart helps show.
We believe climate change represents a portfolio risk, and opportunity that can no longer be ignored, and all investors should consider incorporating climate-change awareness into their investment processes.
This week's chart helps drive home the point that climate-aware investing does not have to mean significantly changing a portfolio's return pattern or compromising on traditional goals of maximizing investment returns.
Article continues below advertisement
Market Realist – Are green bonds the game changer?
We discussed in our series Take a Look at the Road Map for Climate-Savvy Investing how incorporating climate change awareness can benefit investors. Let's look at some other alternatives.
Green bonds sound like an evolving solution to benefit from the climate change effect. Green bonds are an option to use debt capital markets to fund climate-related projects. Green bonds serve as a funding tool to finance the projected $90 trillion of global infrastructure needed by 2030 to limit climate change.
On July 2016, Bloomberg data showed that the green bond market has ~$130 billion of debt outstanding. Proceeds from these bonds are targeted to be used for projects that have positive environmental or climate benefits. The focus will be more on renewables (QCLN), energy efficiency (VDE), and transportation (IYT).
The chart above shows the US dollar amount of the outstanding green bonds of each category and S&P rating. The green bond universe consists of more than 600 bonds from 24 countries in 23 currencies. It includes government-issued bonds and non-government-issued bonds, such as from banks, property companies, automakers, food producers, conglomerates, and clean-tech companies.
Clean tech, or green, companies achieve 50%–100% of their revenues from clean technologies such as renewables (QCLN) and energy efficiency (IEO). Data from Bank of America Merrill Lynch showed development banks also accounted for 45% of 2015's green bond issuance.
Clean energy ETFs such as the PowerShares WilderHill Clean Energy ETF (PBW), the VanEck Vectors Global Alternative Energy ETF (GEX), and the iShares Global Clean Energy ETF (ICLN) can give investors exposure to the clean energy industry. In the current scenario, green bonds look like a growing investment opportunity for climate-aware investing.
In the next part, we'll see how small portfolio changes can make a big difference in reducing climate-related risks.