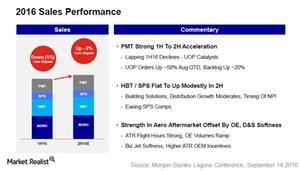 How Morgan Stanley Conference Reversed Course for Honeywell Stock
By Shannon Black

Updated
Honeywell stock slide and reversal
After a weak result in the second quarter this year, Honeywell stock (HON) took quite a slide over a 45-day period. It fell from ~$120 a day before its 2Q16 earnings release to $111.65 on September 13 for a decline of 7%. However, the stock reversed course after it presented at the Morgan Stanley (MS) Laguna Conference.
Article continues below advertisement
Inflection for Honeywell?
In the Laguna Conference on September 14, 2016, Honeywell's CEO, Tom Szlosek, stated that the company could see an inflection in the last two quarters of 2016. Compared to a decline of 1% in 1H16, the company expects organic growth to increase 0%–2% in 2H16.
The basis for this inflection is largely being driven by the UOP business, where revenues were down 35% in the first quarter and 18% in the second quarter. The company's UOP orders in August were fairly strong and led to an ~20% growth in its backlog.
Share buybacks could hint undervaluation
The preference under the leadership of Honeywell's (HON) CEO, David Cote, is generally toward keeping the share count flat and reinvesting its surplus cash to grow its business. In the conference, Honeywell dropped hints about its disappointment related to the price multiple of the company relative to its peer group and the overall market.
Szlosek stated that the company prefers selective and opportunistic buybacks rather than a regular and sticky system. This allows it to repurchase shares whenever it feels there's a disconnect in its multiple with respect to the market.
In the Gabelli Aircraft & Connectivity Conference held on September 8, Honeywell offered insights in the aircraft connectivity space. We covered a major portion of these insights in Honeywell's Driving Forces: Software and Technology.
If you're interested in trading in dividend-based ETFs, you can look at the SPDR S&P Dividend ETF (SDY). Major holdings of SDY include HCP (HCP) with a weight of 2.7%, AT&T (T) with a weight of 1.8%, and Caterpillar (CAT) with a weight of 1.7%.