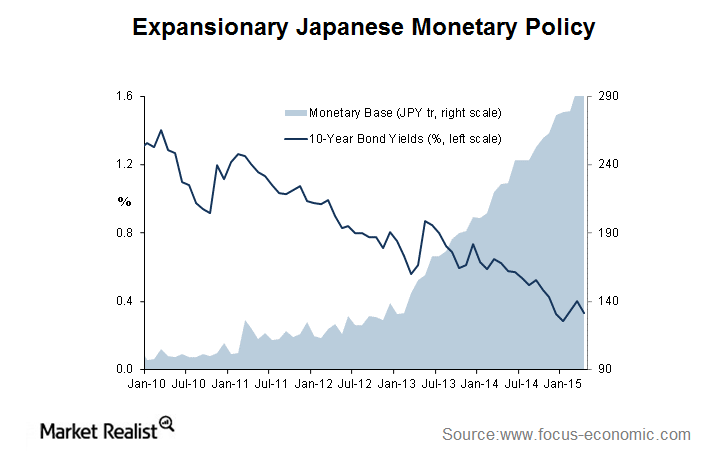 How Gold Reacted to the Bank of Japan's Decision
Bank of Japan's policy
Aside from the Federal Reserve's interest rate conundrum, precious metals prices have taken cues from the Bank of Japan's monetary policy. The bank altered its focus from expanding its money supply to controlling interest rates, which helped Japanese banks, pension funds, and insurers to cope in a lower-than-zero interest rate environment.
The bank made efforts to provide further stimulus to its economy. Expansionary policies prove beneficial for precious metals, while the tightening of the monetary policy sets precious metals tumbling, as their store of value has a negative impact.
Article continues below advertisement
Gold rejoiced
The Bank of Japan also pledged to keep its monetary base, including cash reserves and currencies, in circulation, growing until after inflation exceeds the 2% target that was set back in 2013. While the Bank of Japan's policy fell short of some expectations, its broadly expansionary policy could give further stimulus to precious metals.
Another reason behind the rise in gold and gold-based funds such as the Proshares Ultra Gold ETF (UGL) and the PowerSharess DB Gold ETF (DGL) is the fall of the US dollar right after the Bank of Japan's policy decision. In our next article, we'll look at the relationship between gold and the US dollar.
Most mining stocks also rejoiced in the temporary rise in precious metals. These companies included Kinross Gold (KGC), IAMGOLD (IAG), Eldorado Gold (EGO), and Harmony Gold (HMY). These companies have witnessed their prices fall substantially over the past few years due to the massive precious metals losses. They're now enjoying substantial gains.