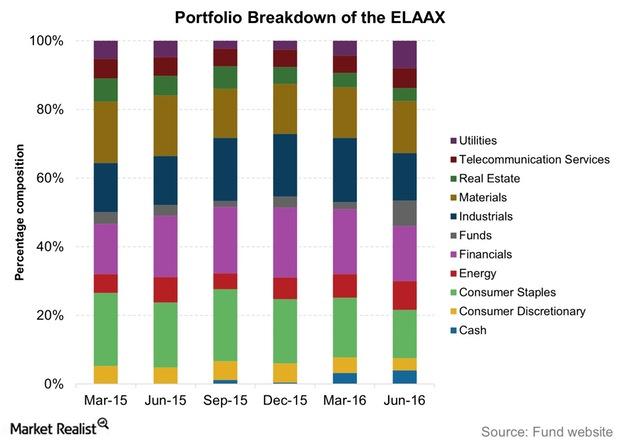 How Faith and Family Values Play into This Fund's Attractiveness
By David Ashworth

Sep. 9 2016, Published 3:15 p.m. ET
Epiphany FFV Latin America Fund overview
The Epiphany FFV Latin America Fund (ELAAX) aims to achieve long-term capital growth by investing "principally in the equity securities of companies based in Latin America including Mexico, Central and South America, or with substantial business derived from Latin American operations and that demonstrate a commitment to faith and family values as measured by the FFV Scorecard."
FFV stands for "faith and family values." The fund follows the USSCB's (United States Conference of Catholic Bishops) socially responsible guidelines of investing. To meet this end, the fund house created the FFV Scorecard. The fund house states, "The FFV Scorecard is a methodology used to measure companies for Socially & Morally Responsible Investors."
Article continues below advertisement
The fund's assets were invested across 53 holdings as of July 2016, and it was managing assets worth $4.7 million. In July, its equity holdings included LATAM Airlines Group (LFL), Grupo Aeroportuario del Centro Norte (OMAB), Companhia Paranaense de Energia (ELP), Credicorp (BAP), and Compañía de Minas Buenaventura (BVN).
Portfolio changes in the Epiphany FFV Latin America Fund
ELAAX's top four invested sectors are quite close in terms of portfolio weight. Financials is the fund's top invested sector, but its exposure fell from a little under one-quarter of ELAAX in April to 16% in June. The materials sector closely follows financials. The consumer staples and industrials sectors round off the fund's top five sectoral holdings. The fund isn't invested in the healthcare or information technology sectors.
We've looked at ELAAX's quarterly portfolios for the three years leading up to June 2016. Both consumer-focused sectors, especially staples, have seen their respective portfolio weights fall compared to three years ago. At one point, consumer staples formed one-quarter of the fund's portfolio, but it's seen its share fall to 14%.
The energy and financials sectors have maintained their portfolio weights compared to three years ago. However, while energy has seen its weight rise from lows seen intraperiod, financials has seen its weight fall.
With this portfolio positioning, how has ELAAX fared in 2016 as of August, and why? Let's take a look in the next article.