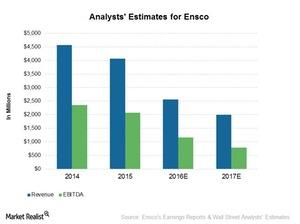 Ensco: A Deep Fall in Earnings Seems to Be Inevitable
By Sue Goodridge

Updated
Ensco's backlog
In 2Q16, Ensco's (ESV) blend-and-extend agreements with its customers helped add some revenue backlog for the company. However, these additions aren't sufficient to recoup the utilized backlog in the second quarter. On June 30, 2016, Ensco (ESV) had a total backlog of $4.1 billion compared to $5.2 billion at the end of 1Q16.
Article continues below advertisement
Contract roll-offs in 2016
In 2016, a huge number of contracts—around 13—are rolling off for Ensco. This is expected to bring a lot of pressure on the company's 2017 revenues and earnings. Approximately six more contracts will roll off in 2017.
Estimated revenue
Wall Street analysts estimate that Ensco's revenue will be just over $539 million in 3Q16. This would be a steep fall of more than 40% from its 2Q16 revenue of $909 million. On a year-over-year basis, the estimated 3Q16 revenue is down 47%.
Its fiscal 2016 revenue is estimated to ~$2.6 billion—down from ~$4.1 billion recorded in 2015. As many rigs are completing their contracts in 2016, an additional huge dip in revenues is expected in 2017. The 2017 estimated revenue stands at ~$2 billion—22% down from estimated 2016 revenue and 51% down from 2015's actual revenue.
Estimated EBITDA
Analysts estimate the third quarter EBITDA[1. earnings before interest, taxes, depreciation, and amortization] for Ensco to be $218 million compared to $532 million in 2Q16 and $557 million in 3Q15.
For fiscal 2016, estimated EBITDA is 44% lower than 2015's EBITDA of ~$2.1 billion. As revenues are expected to drop further in 2017, so is the EBITDA. The 2017 EBITDA estimate stands at ~$0.8 billion.