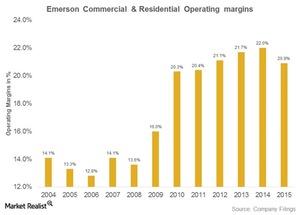 Emerson's Commercial & Residential Solutions Enjoying Growth
By Shannon Black

Updated
Revenues and operating margins of Emerson Commercial & Residential Solutions
Revenues for Emerson Electric's (EMR) Commercial & Residential Solutions segment have risen from $1.8 billion in 2011 to $1.9 billion in 2015 at a compound annual growth rate of 0.9%. Operating margins within the unit have been the highest, ranging from 20.4% to 22.0% in the same period. Operating margins in 2015 and the first three quarters of 2016 were 20.9% and 23.1%, respectively.
Geographically, 86% of the segment's sales in 2015 were derived from the United States and Canada. Asia and Europe combined represented around 10% of sales in 2015. The markets outside the United States are price-sensitive, and competitors are willing to reduce their prices to gain market share in this business. As such, Emerson's products in the segment aren't suited for these markets, and the company doesn't have a remarkable presence there.
Article continues below advertisement
Does Emerson Commercial & Residential Solutions have a competitive advantage?
Emerson has high margins in its Commercial & Residential Solutions segment on the back of its brand strength. A strong brand was perhaps not as important for some of the other units. But the Commercial & Residential Solutions unit has a much larger exposure to retail consumers.
A popular brand isn't necessarily a source of competitive advantage, however. A brand becomes a source of economic moat only when it allows the company to sell the product at a premium. Since that's definitely the case with the segment, Emerson does have a competitive advantage in the Commercial & Residential Solutions business.
If you're interested in trading in dividend-based ETFs, you can consider the SPDR S&P Dividend ETF (SDY). Some major holdings of SDY are HCP (HCP) with a weight of 2.7%, AT&T (T) with a weight of 1.8%, and Caterpillar (CAT) with a weight of 1.7%.
This ends our second company overview series on Emerson Electric. In our upcoming third series, we'll look into some of Emerson's capital allocation decisions, cash earnings, shareholder returns, and asset quality.